Are you looking for "English Sentences Used in Daily Life"? then stop searching from now. This is the best place, where you won't have any questions regarding English sentences.
Here I gonna share with you English sentences used in daily life with Structures and the formation of sentences. Here I have listed above 100s of daily use sentences that we often use in our daily life.
List Of Daily Use English Sentences
Here I gonna share with you some Sentences with structures that we often use in daily life.
1. How are you?
I am fine thanks and you
Preety good
Preety well
Quite well
Good
'Cool'
Chilling out
2. How is your life? or How's your life?
Fine
Superb
Fantestic
Plentiful
Fanbulus
It's going along life
Its so-so
It's going great fun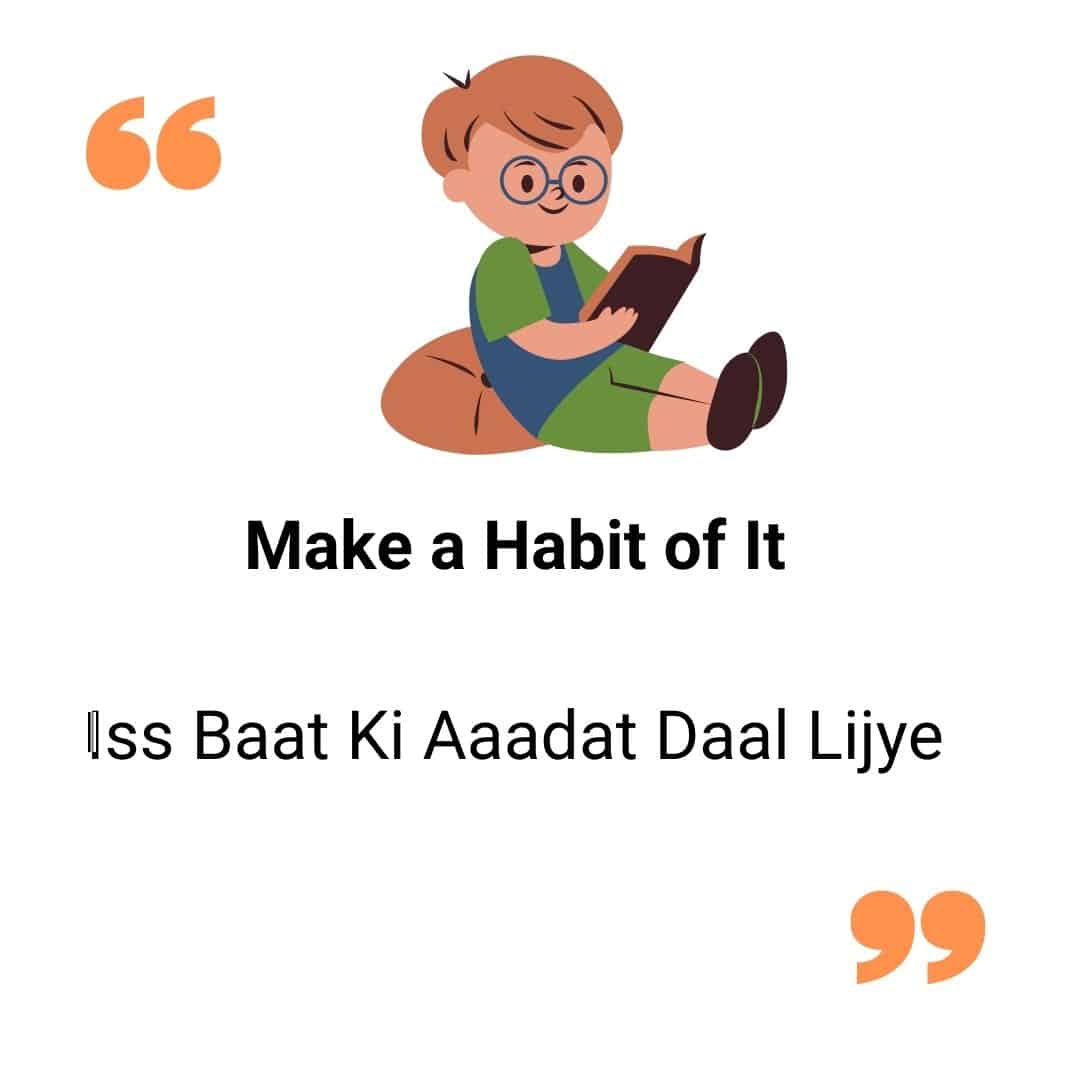 3. Some Phrases in English Sentence
Make a Habit of it – Iss Baat ki Aadat Daal Lijiye
Use of Foul language – Ulte Sidhe Sabdon Ka Prayog Karna
Drive Bike fastly – Bike Teji Se Chalana
It dosen't matter – Koi Fark Nahi Padta
It does matter – Fark To Padta Hai
I appriciate you – Mujhe Aapko Sunke Achha Laga
Make a point of it – Iss Baat Ki Gaanth Bandh lijiye
It's sound good – Sunke Achha Laga
It's sound bad – Sunke Bura laga
Shall we start now – Kisi Kaam Ki Suruwat Ki Jaye
It's sound strange – Sunke Adbhut Laga
Pass the Buck – Apni galti Dusre Pe Daalna
Hire the car – Gaadi Kiraye pe lena
Buck bite – Chugali Karna
I will not give you cut and dried – Mai Aapko Paka Pakaya Nahi Dunga
I will not leave you in lurch – Mai Aapko Bich Majhdaar Me Nahi Chhodunga
Common Science is not so common – Common Itna Bhi Common Nahi Hota Ki Aasani Se Samjha Ja Sake
You are mistaken – Aako Galatfahami Hui Hai
It's up to you – Sab Aapke Haath Me Hai
Could you pull the leg of your elders? – Kya Tum Apne Bado Ka Majak Uda Sakte The
Party crasher – Bin Bulaye Party Me Jaane Wale Log
Crash the Party – Bin Bulaye Party Me Jaana
Welcome or not I am still your guest – Jan na Pehchan Mai Tera Mehmaan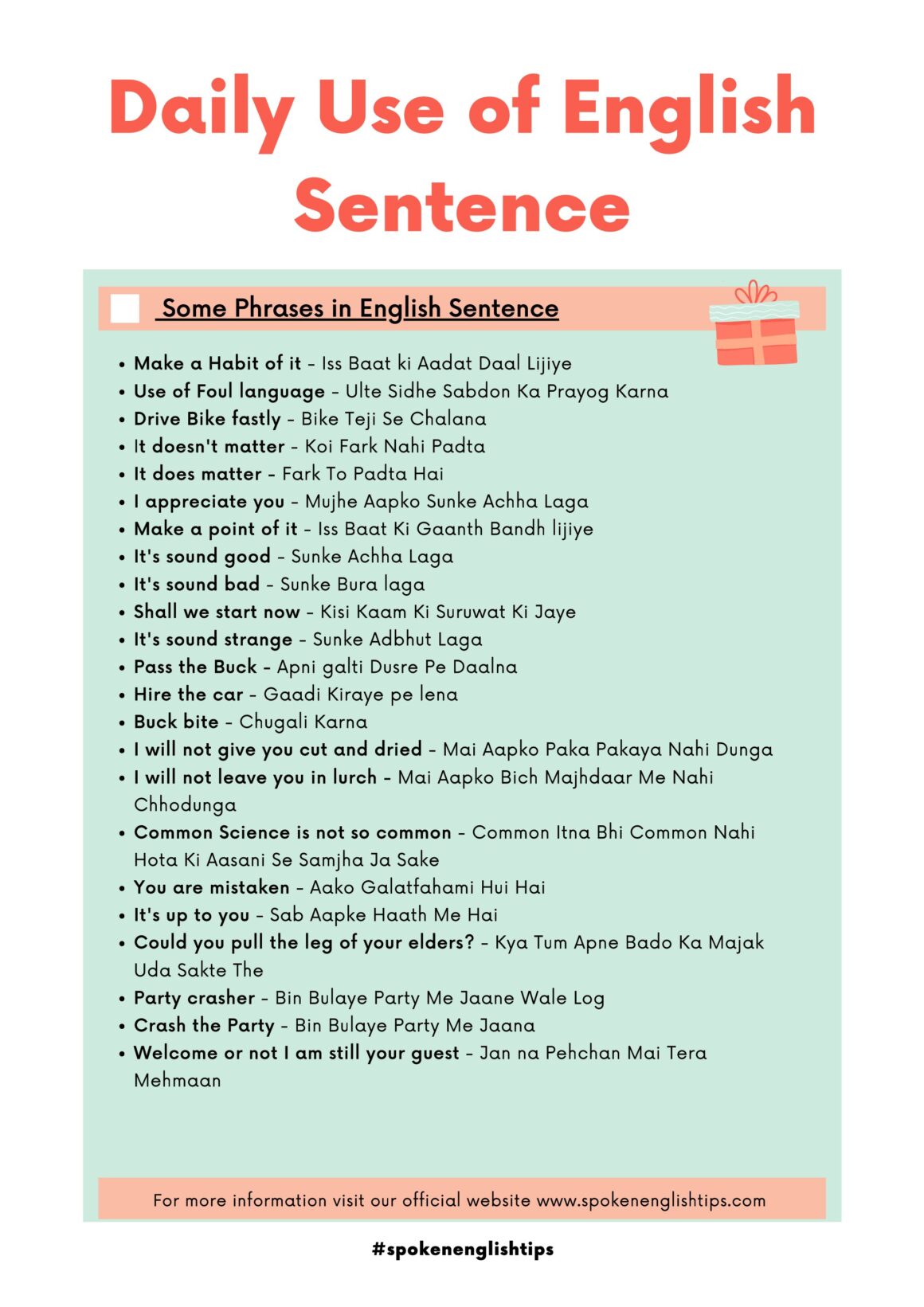 4. Some Greetings for Leaving wishing
Bye-Bye Have a sweet time
Great time
Lovely time
See you soon
Good Night
Good day
See you
Have a great day
See you in the morning
5. Some English Sentences Used in Daily life
Will you appreciate music?
I will kill mosquitoes.
I will not join my company.
Will he invite the trouble?
I may do your homework.
He will jump the wall.
He may drink the water.
I might accept the proposal.
He might change his attitude.
I didn't pull the leg yesterday.
He will not dig the Earth.
6. Some Simple sentences regarding asking Questions
Do you choose the dress?
Does he wear a helmet?
Is he feeding Baby?
Do you want to get up early in the morning?
Does he wanna go to a law house?
Have you earned livelihood?
Did you hire a C.D of the movie?
Did He Kick The Ball?
Be smart but don't Be over smart.
Be Confident but Don't be overconfident.
Introduction
a) Where Do you Belong to?
I heal from…………..
I put up from……….
I belong to……………….
b) How many siblings do you have?
I have got 6 siblings 3 brothers and 2 sisters.
c) About your Qualifications
d) About your Hobbies
e) About your merit and Demerit
f) What do you want to be?
| | |
| --- | --- |
| Spoken English Guru English Conversation Book | Buy Now |
| Learn English through Hindi – English Translation | Buy Now |
| 4000+ of English Vocabulary February 2021 | Buy Now |
| How To Translate Into English | Buy Now |
| How to Talk to Anyone: 92 Little Tricks for Success | Buy Now |
| Attitude Is Everything: Change Your Attitude | Buy Now |
| The Power of Your Subconscious Mind | Buy Now |
| Rich Dad Poor Dad: What the Rich Teach Their Kids | Buy Now |
Basics of grammar, which is essential for Spoken English. Study all the lessons below to improve your speaking, writing..
1000+ Basics of English Speaking Structures in this course, which is used to improve your Spoken English.
Regular English-speaking structures at least 1000 here. It can be used during Fluent English Speaking.
Learn above 100 topics about what to say and how to say things in daily conversations.
10000+ above Most Common Words in English which enhance your vocabulary power.
Improve your English Fluency dealing with Business, Learn How to deal with business communication.
Crack any kind of interview by improving communication skills Prepare for any kind of interview conducted in English
Learn Soft skills for your personality development, improving yourself, body language tips, and ideas.