English speaking conversation topic on getting information at the Airport. In this Speaking English conversation practice free with dialogues and Exercise. Read the full discussions of these conversations when you meet someone at the airport.
In this online activities conversation, we will discuss the complete information regarding getting information at the airport.
So Are you excited! go ahead for Basic English conversation practice.
English Conversation Practice Exercise- Getting information at the airport
Conversation A
S1. At what time does the next plane to London leave som
S2. The next one is flight 12 at eleven fifty-five.
S1. What's the next one after that?
S2. Flight 21 at one oh-five.
Conversation B
S1. How often is there a flight to Paris?
S2. We have flights to Paris every hour.
S1. Are they nonstop flights?
S2. Yes. Direct to Paris.
Conversation C
S1. Could I make a reservation for flight 10 to Tokyo?
S2. I'm sorry, but everything is taken.
S1. How about the next flight tomorrow at two o'clock?
S2. Yes. I can give you a reservation on that.
Conversation D
S1. I'd like to check-in for the flight to New York.
S2. Fine. Do you have your ticket and passport?
S1. Yes. Here's my ticket, and I'll get out my passport.
S2. Would you please put your baggage on the scales?
S2. No. They'll probably list it about ten minutes before arrival.
Conversation E
S1. How long is the flight from New York to Washington?
S2. Well, supposedly an hour, but it's sometimes longer.
S1. How often are there flights to Washington from New York?
S2. There's one every hour.
Conversation Pdf worksheets Free Download
This English conversation pdf worksheet will help you to practice easily whatever you learn before. How it will help you let me tell you:
First you save or download this worksheet on any device.
Get a print out of English conversation worksheet
And start doing exercise
This is the best way to learn ESL speaking Home learning for students. It is a kind of activity to learn English conversation by doing practice. Download a free printable English conversation practice worksheet.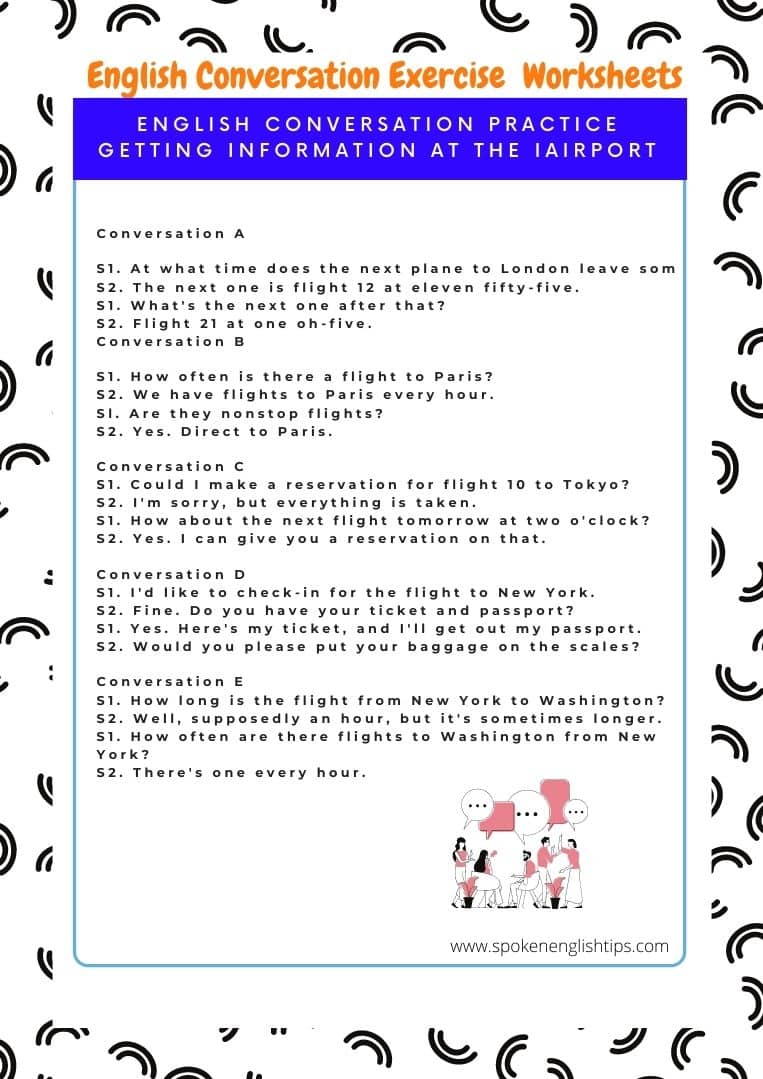 I hope this article "English conversation practice exercises" will be helpful for you further if you have any queries, kindly comment below. We will definitely reach out.
| | |
| --- | --- |
| Spoken English Guru English Conversation Book | Buy Now |
| Learn English through Hindi – English Translation | Buy Now |
| 4000+ of English Vocabulary February 2021 | Buy Now |
| How To Translate Into English | Buy Now |
| How to Talk to Anyone: 92 Little Tricks for Success | Buy Now |
| Attitude Is Everything: Change Your Attitude | Buy Now |
| The Power of Your Subconscious Mind | Buy Now |
| Rich Dad Poor Dad: What the Rich Teach Their Kids | Buy Now |