On Thursday Google doodle remembered on the 80th birthday anniversary. Arati Saha was the best swimmer and also awarded by the Indian government Padma Shri. She was the first Indian swimmer who achieves medel.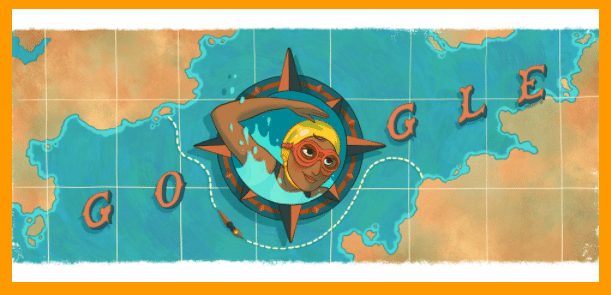 Arati Saha: 24 September 1940 – 23 August 1994) was an Indian long-distance swimmer, best known for becoming the first Asian woman to swim across the English Channel on 40th January 1949.
She was born in Kolkata, India. She had an early age started swimming when she was 4 years old. 
Arati Saha came from a middle class family. She was born the second of three children and the first of two daughters to her mother in 1940 her mother's name was Panchugopal Saha. Her father was Employed in the Indian government Armed forces.
When she was 2 and a half years old she lost her mother. Her elder brother and younger sister Bharati was raised at their maternal uncle's house. When she achieved the age of four, she would accompany her uncle to the Champatala Ghat for a bath where she learned to swim. 
Her first achievement was at the age of 5. she won the gold medal for 110 110 yards freestyle at the Shailendra Memorial Swimming Competition and that was the beginning of Her carrier.
During 1945 and 1951 she won 22 state-level competitions in West Bengal. 
Arati had completed her primary and secondary education from the government college. She achieved many models and become the empowerment for Indian women.  Her in law's house was in Tarak Chatterjee Lane, very near to her grandmother's house. After marriage, she had a daughter named Archana.
In 1960 she was awarded Padma Shri from the government of India. It was the biggest achievement for her. On the day that would have been her 80th birthday in 2020, she was featured as a Google Doodle
Learn more-improve personality development