Hello, Here I am going to share the Basics of Spoken English complete course which will help you to improve your English.
If you are eager to learn and speak in English then you are at the correct place. Here I am giving you almost above 100 of basics structures of Spoken English.
Basics of Spoken English
In this article, I am going to share my own thought which is related to Spoken English. In our country spoken English has become a kind of business. Especially there is too much craze in small city areas. They will tell you that I will teach you English in 30 days or 90 days or Blah blah blah…
But, The reality is that You can't speak English in a short period of time. You have to invest time for this, you have to be eager to speak in English and this will come only and only by practising more and more.
Note:- Most of the people keep on asking How to learn spoken English through Hindi. So that's why I have decided that whatever I will share, everything will be in English as well as in Hindi.
Use of I Am with Examples- Basics of Spoken English
Friends, In this article we are going to study the use of "I am" which is Hindi meaning is "hun" which tells about myself or to describe something that is doing.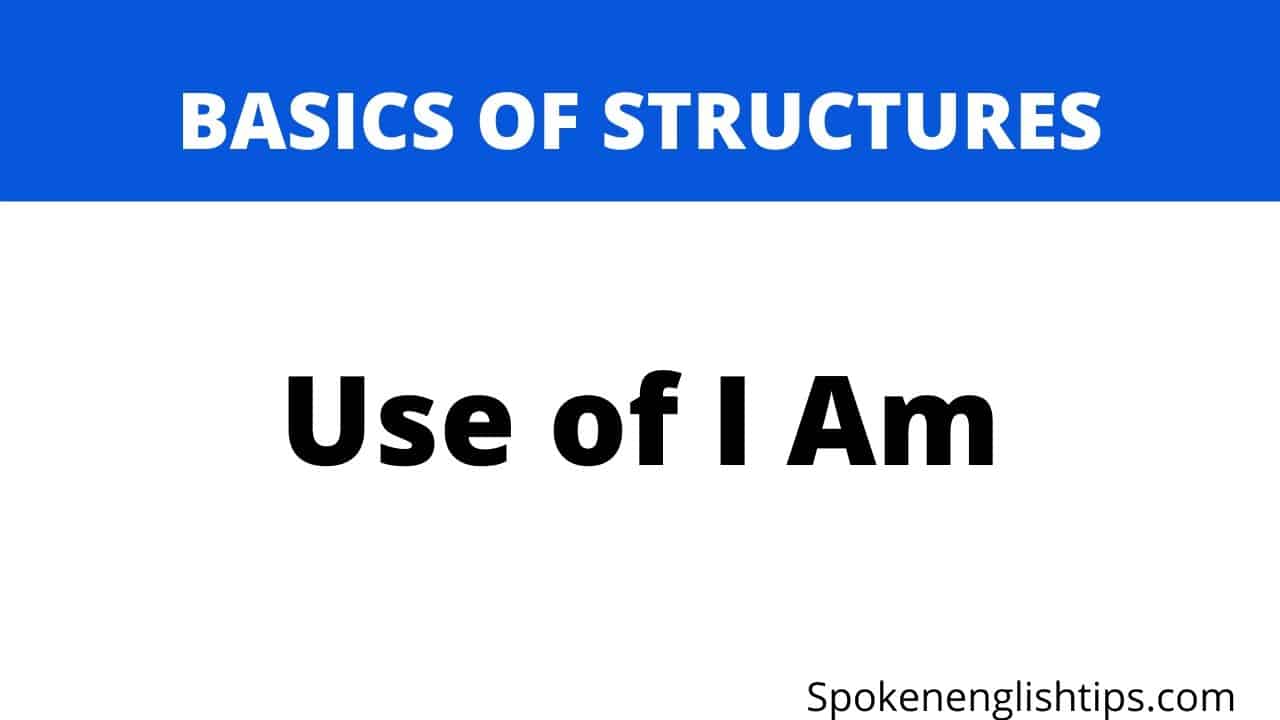 Hindi: Aaj ham Use of I am ke bare me padhne wale hain jiska aksar ham apne bare me kuch batane ke liye "I am" prayog karte rehte hain.
SOUND: hun
STRUCTURE:  I am + Action
EXAMPLES: 
I am learning spoken English.
Mai Angregi sikh raha hun.
Mai college jaa raha hun.
Mai bahut khush hun.
Mai bahut thak gaya hun.
Mai uljhan me hun.
I'm twenty-two years old.
Mai 23 saal ka hun.
Mai bhukha hun.
Mai ghab raha hun. 
Mai utsaahit hun.
Mai kaam chhor raha hun.
Mai Pyasa hun.
Mai Bengaluru se hun.
Mai behad mafi mangta hun.
Mujhe bahut bhukh lagi hai.
Mai bahut utsaahit hun.
Recommended>> Use of Insist Spoken English Basics of Structure