How To Speak English Fluently And Confidently- If you are Searching for how to speak in English with confidence, I am going to share some special tips to Speak English Fluently and Confidently . After reading this you will be able to know that how to speak English fluently with confidence.
Tips To Remember :-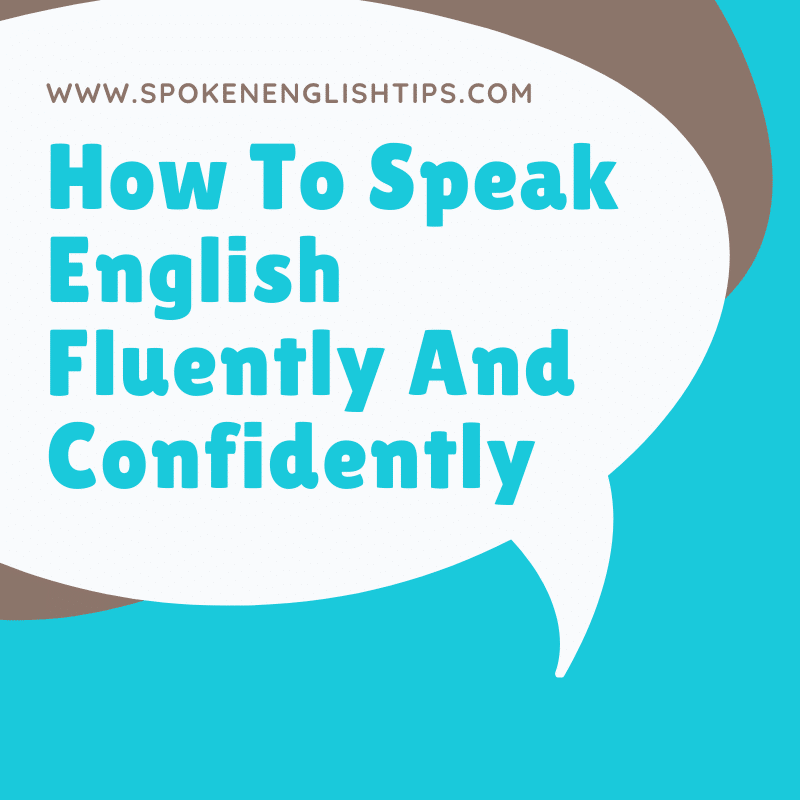 There is so many ways  to speak english but here I will share some unique tips for Spoken English . Before that I wanna say that one thing remember In your mind that without hard work you cannot achieve anything .
And this law for any kind of subjects. There is no magic and shortcut ways you have to practice again and again. And you know practice make a man perfect.
Top 7 Key points to Speak English

Fluently with Confidence
According to me, There is 7 key points which will help you to grow your English speaking fluency, and I am sure if you do this continuously then no one will stop you do you speak English fluently so let's start-
 1. Set a Goal
This is one of the most important key points to accept all the points. What I mean that when I say that you have to study English.Make a two Resister first should be for Grammar and Second for Vocabulary.
After that, fix your goals according to your time table. And take a lesson at least in a week. It depends on your time, but here I will say you must spend at least an hour for your goal.
Grammar– In the Grammar section, you have to write only about Grammar related rules. And where it will come, I will tell you in Second points.
Vocabulary– In Vocabulary, you have to remember three points. Vocabulary means word meaning, And where It will come you do not need to search anywhere.
If you observe near about you daily either you are at home or outside you can see also in the newspaper you always read that words but never search that word meaning.
so those which you do not know words meaning you can search from the dictionary either you can download some dictionary apps. How To Speak English Fluently And Confidently
Even if you don't have an idea then you can learn from our site Spoken English tips another thing you can write in your vocabulary section that will improve your spoken English which is idioms and phrases.
If you use in your conversation idioms and phrases, then it will improve your communication skills as well as impact two other people and makes a perfect English speaker.
And you can write and learn in a weekly 3 or 4 idioms and phrases that will enough.
2. Take English Classes
Take English classes, Where it will come I am telling it does not matter if you are a student employed are a learner you can learn from anywhere from the internet you can follow any famous Youtubers which will help you to learn grammar and some ideas of spoken English either you can follow any websites.
like SpokenEnglishtips and any other which will help you to learn grammar correctly and also that will be easy for you to learn and This will work for everyone and also if you want to learn from yourself then you can take any kinds of grammar books.
Because every book will tell you correctly and simple ways to learn grammar. Otherwise, also I am going to start a grammar portion Of my YouTube channel that is especially for spoken English. I will start from the beginning that will be especially for spoken English not for deeply competition exams. and you can make notes of those videos.
Important points-The most motivating is that whatever you are learning and you do not remember for longer days will affect your fluency. Hence, you have to do one thing choose a day for revision of whatever you have written in your vocabulary section or grammatical section, And these steps will fire your English fluency.
3. Reading
The First step of learning any language is reading so you must have to read so what you have to do if you are a student then you have the text. Hence, you have to read your textbooks which should be in English and also it will be better for your subjects and your English. 
And if you are a learner, then you can read any book like stories, biographies, politics etc. make you sure that whenever you are learning to try to learn with sound because in English speaking pronunciation is must important so whenever you learn with a sound that will help you to pronounce a word meaning in a better way and also your grammar will improve.
4.Writing
Writing is also important for speaking English .when you will start writing in English not only improve your handwriting but also so you will use your sense organs. Your hand will command to write something, And your eyes will read.
And what you will have to do I gonna tell you, choose a topic and write a paragraph about that topic at least should be one page.
and also this will improve your knowledge and will help to a discussion in a group. and if you don't have any idea about any topic, then you can describe yourself that what you have done in a day life or the past life or about any person.
5. Speak
speaking is most important, but here you will say if you would know English speaking why you would be here,
but here I am saying you don't need to speak perfectly even you are speaking roughly also not in well grammatical it doesn't matter you have to speak whatever you are just trying to convert in your speaking style.
and also there is so many peoples you can speak English very well, and they are fluent in English. 
However, they cannot be able to speak in front of other peoples, so here I will say that if you do like this will also improve and your communication skills will better. you will be confident whenever you speak in front of other peoples.
So here I will suggest you choose a friend who wants to speak in English and try to talk in English with each other. you can create What's App groups for talking in English or whenever you meet, try to talk on a topic. and you can learn from each other.
6.Listening
Listening, it also plays a role in Speaking English. Listening is much essential because it will help you to listen to knowledge about what other peoples are saying as well as your grammatical mistakes, how to make sentences?. So listening is the crucial factor of creating your personality development as well as your understanding of knowledge.
So what you have to do you have to watch English movies, videos anything but it should be with subtitles. and on the internet, there are so many videos movies are there, and you do not need to spend too many hours or watch videos on YouTube.
you can choose a category or any short videos or short stories for improving your listening power. you can listen to English songs. It will improve your accent language.
7.Sentence translation
Yes, sentence translation is also essential for improving your English speaking, and your friends or any other cannot help you to try to translate these things you have to do to yourself. Suppose your mother says "Khidki Pe Parda Dal Do" then try to think that how will you convert this sentence into English.
I know this is a grammar portion, so you don't need to worry about it I am sharing 1000s of sentence translation you can read from our website Spoken English tips. Sentence translation stands for how much time you can talk in any conversation on any topic so sentence translation is most important so you must have idea about how to translate sentences 
So these are the topmost key factors of increasing your Fluency in English. I hope you will love this article if you love that try to share with other people and try to be helping others.
Speak English Fluently And Confidently Spoken English Tips