In this article, we will study the Past Perfect Tense Of Active & Passive Voice. The use of Active and Passive Voice is very common in English Speaking. Changing of Active and Passive Voice is very easy to remember.
If you want to know about the basic rules of Voice then you should go with this Rules To Change Active voice into Passive Voice
Forms Of Verb: Voice ( Past Perfect)
A study about forms of the verb means Voice is widely used in English Speaking. Learn Here active Passive voice in English and Hindi With Examples.
Rule: In Past Perfect sentences shows that work was already completed in Past time.
Sound: Aa Gaya Tha, E Gayi Thi, A Gaye The, Chuka Tha, Chuki Thi, Chuke The
Structure: Subject + had been +V3 (Past participle )
Some Examples:
1. A boy had been taught.
2. A letter had been written.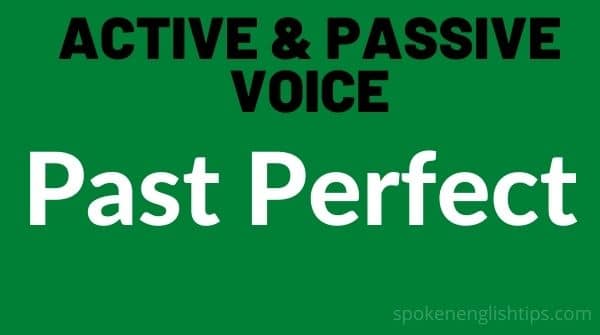 Patra Likhe Jaa Chuke The
Ladke Padhaye Jaa Chuke The.
4. Thieves were punished.
5. Work had been completed.
Kaam Pura Kiya Jaa Chuka Tha.
6. Poems had been written.
Kavitaayen Likhi Ja Chuki Thi.
9. Match Had Been Played.
10. Chairs had been broken
So, guys, these are the Examples Past perfect tense of passive voice. Now what you need to do Just use these sentences in your Daily English Speaking During Conversation or Itself to improve your fluency.
Read Also:
Do you want to speak like as native Speaker?
Complete Spoken English Course here FREE now!!!
> > CLICK HERE < < <