Learn Animals name in English With pictures, learn the names of several animals. Learn Animals name in English, Animals are the creatures belonging to the class Mammalia. They are multiple creatures that come in a variety of forms, sizes, and behaviors.
Learn here the different types of animals name in English, Depending on their habitat, animals that eat organic stuff might be herbivores, carnivores, or omnivores. They have their own sense organs and receptors, as well as neural systems that are comparable to humans'. learn all the list of animals name in English Hindi with pictures in English.
Here I have listed 1oo animals in English with pictures a to z. This list of animals with pictures you can download. Learn here wild animals names, pet animals names, domestic animals names, insets, Amphibians, etc.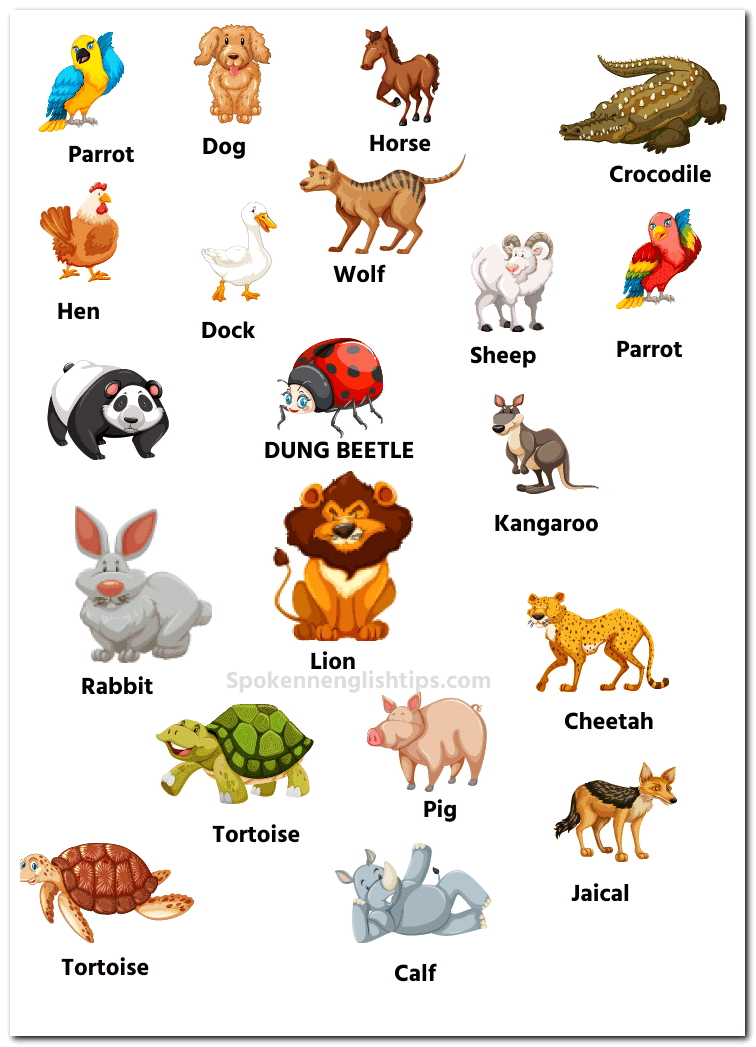 Types of Animals:
All the animals are classified according to their living and their habitats.
Wild Animals
Pet Animals
Mammals
Domestic Animals
Insects
Amphibians
Reptiles
Dinosaur names with Pictures
Animals Name in English With Pictures
Now, we will learn animals name with pictures. Learn All list of animals name in English.
Wild Animals Name In English
Wild animals thrive in natural settings such as forests. These animals can exist on their own resources, such as hunting, fishing, or searching for herbs and vegetables in the forest.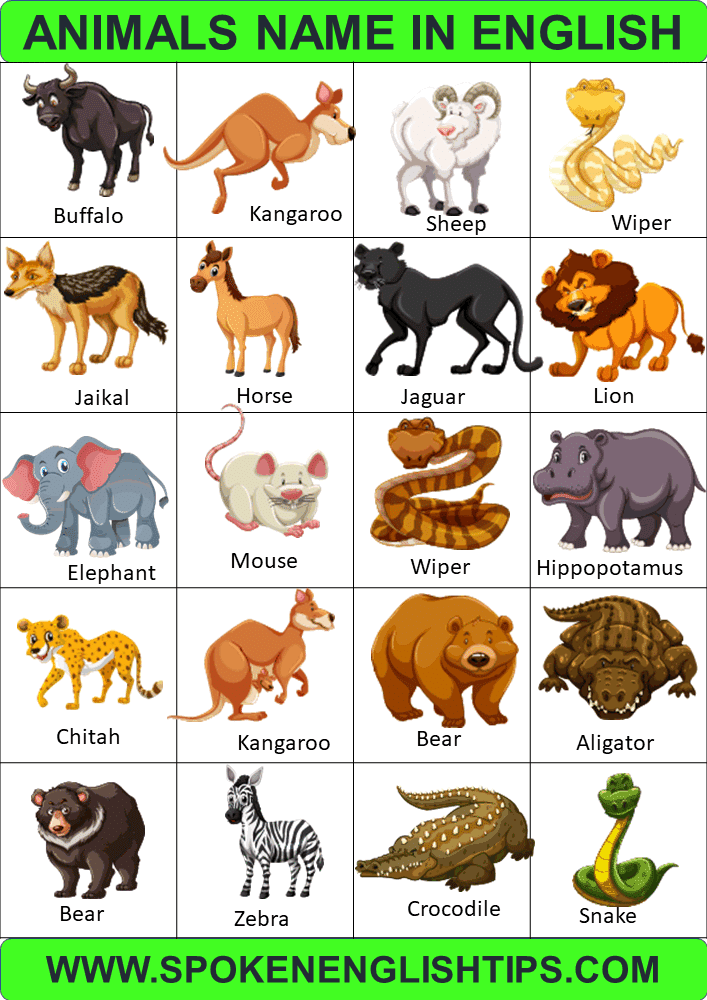 Buffalo
Kangaroo
Sheep
Wiper
Jaikal
Horse
Jaguar
Lion
Elephant
Mouse
Hippopotamus
Chitah
Bear
Aligator
Zebra
Crocodile
Snake, etc.
Read also: Nonrenewable Resources with Examples
Pet Animals Animals Name In English
Pet animals were considered as family members and lived as pets in the homes of their owners. They establish strong bonds with their caregiver. These animals are either herbivores or omnivores, and they eat food ingredients, meat, raw veggies, and other raw vegetables, among other things. They keep for companionship or enjoyment.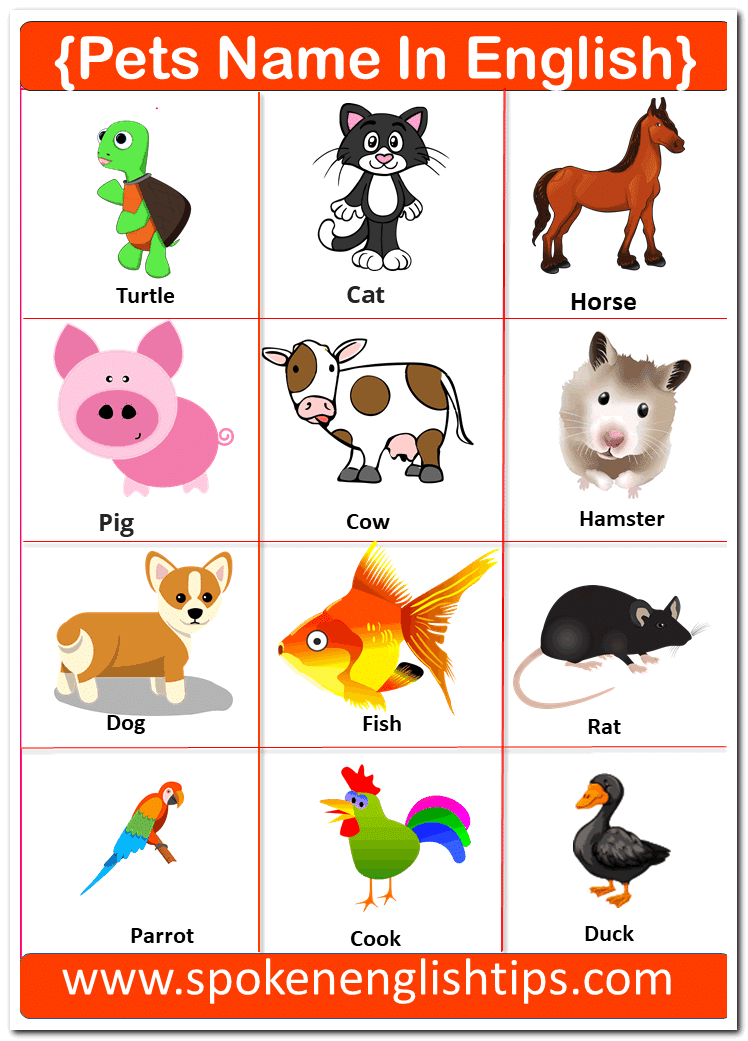 1. Turtle
2. Cat
3. Horse
4. Pig
5. Cow
6. Hamster
7. Dog
8. Fish
9. Rat
10. Parrot
11. Cock
12. Duck
Mammals animals Name
Mammalian animals are warm-blooded vertebrates that belong to the family. Similarities . for example are members of the Kingdom Animalia and have hair or fur on their bodies. Mammary glands are glands in female animals that release milk for the sustenance of their young. Almost every mammal births live young.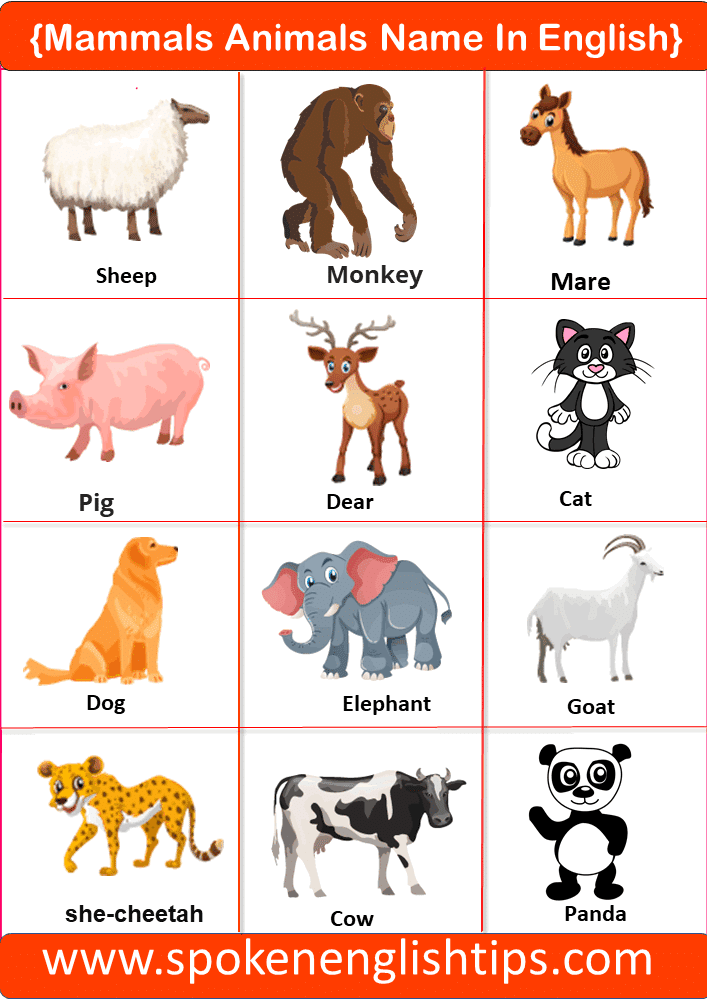 Sheep
Monkey
Mare
Pig
Deer
Cat
Dog
Elephant
Goat
She-Cheetah
Cow
Panda
Domestic Animals Names in English
Domestic animals are very piece animals. These animals can easily handle and are very "lovable". People love to be with them. What is 12 domestic animals' names? Here is the list of animals' names with pictures.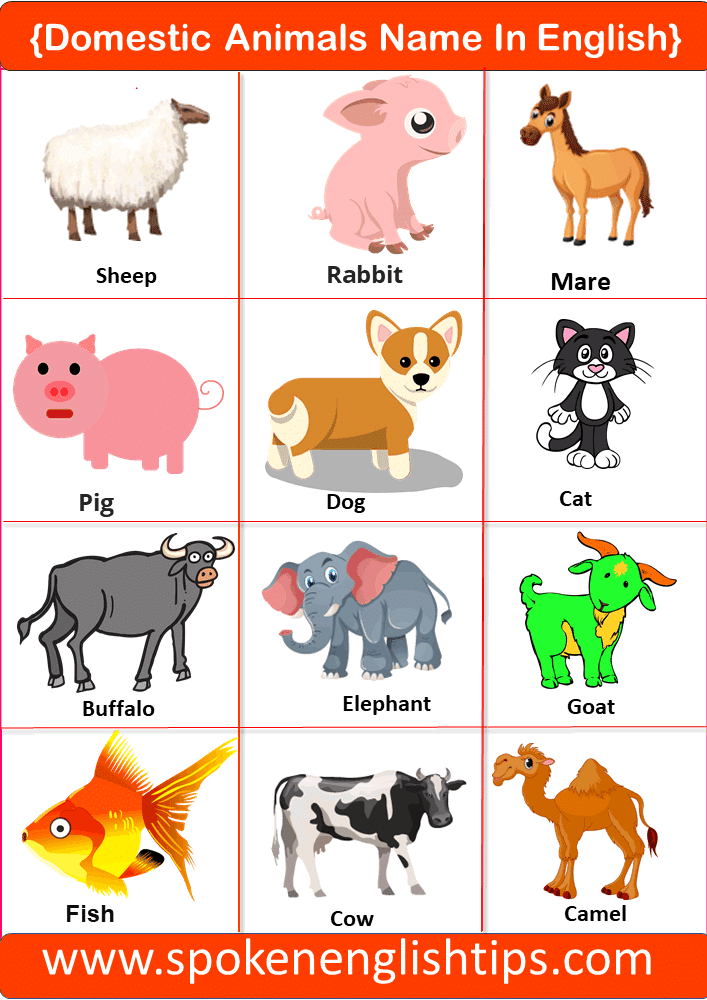 Sheep
Rabbit
Mare
Pig
Dog
Cat
Buffalo
Elephant
Goat
Fish
Cow
Camel
Farms animals name with Picture
Animals kept on farms for 'meat', 'dairy products, or to assist farmers are known as farm animals. Animals bred and kept for agricultural reasons are known as farm animals. 'Cows', 'chickens', 'pigs', 'geese', and other animals are among them.
Here are 12 farms animals' names with pictures.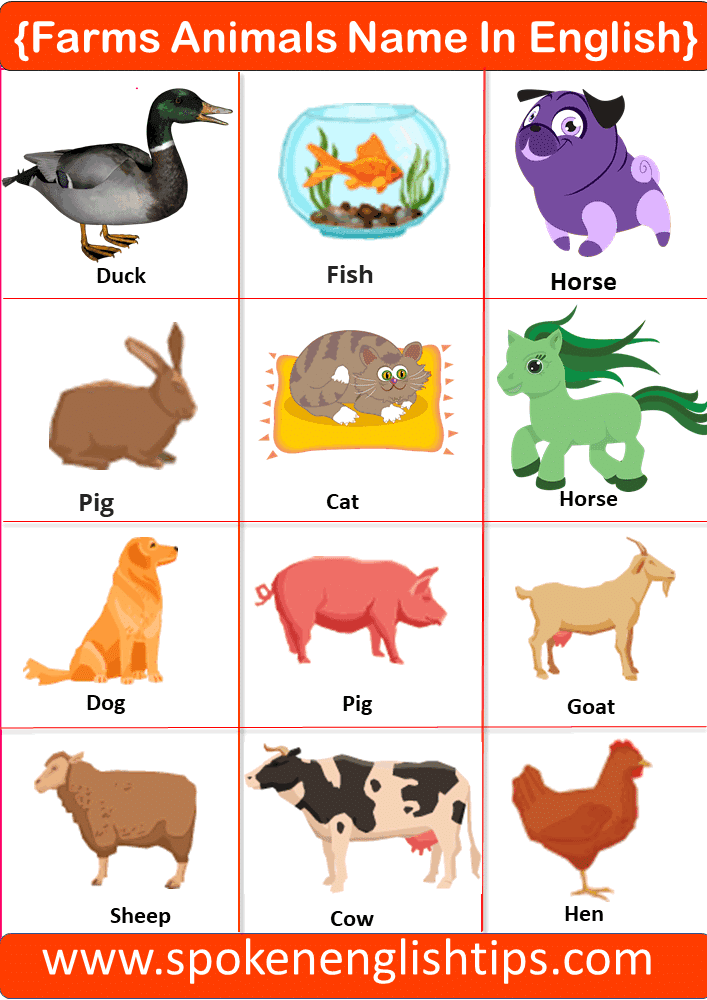 5.Sea animals Name
Sea animals are living creatures that spend their lives underwater in the sea or seas. These organisms are also known as marine creatures or marine animals.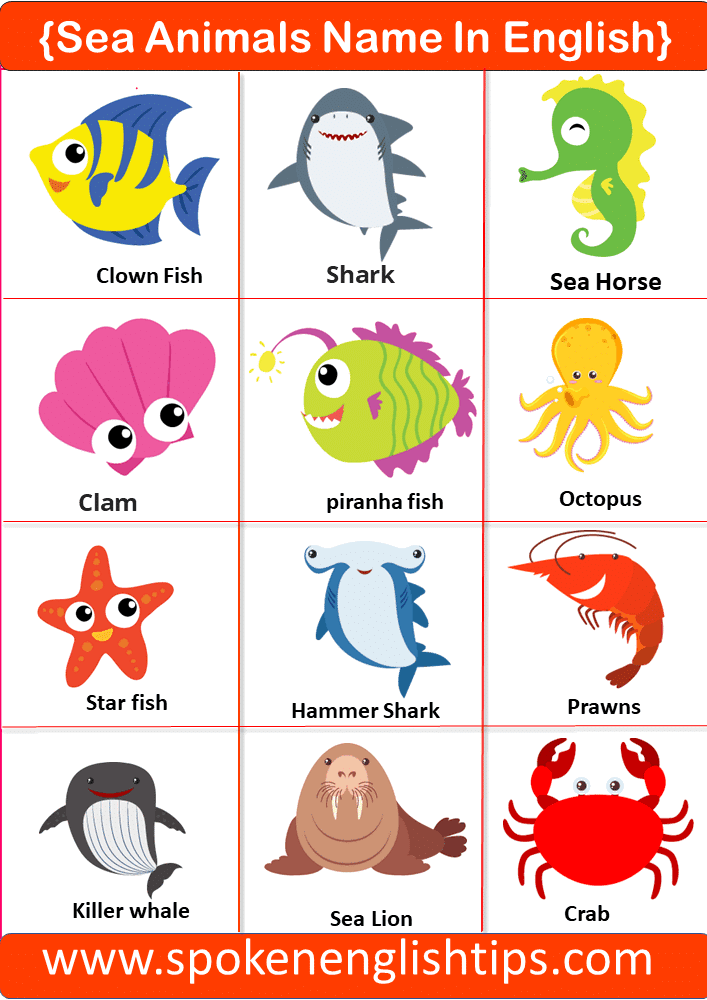 Clown Fish
Shark
Sea Horse
Clam
Piranha Fish
Octopus
Star fish
Hammer shark
Prawns
Killer whale
Sea lion
Crab
6. Dinosaur names and pictures
Here is the list of all dinosaurs with pictures. Dinosaur Names with Pictures. Below you'll find a list of dinosaurs with pictures and information.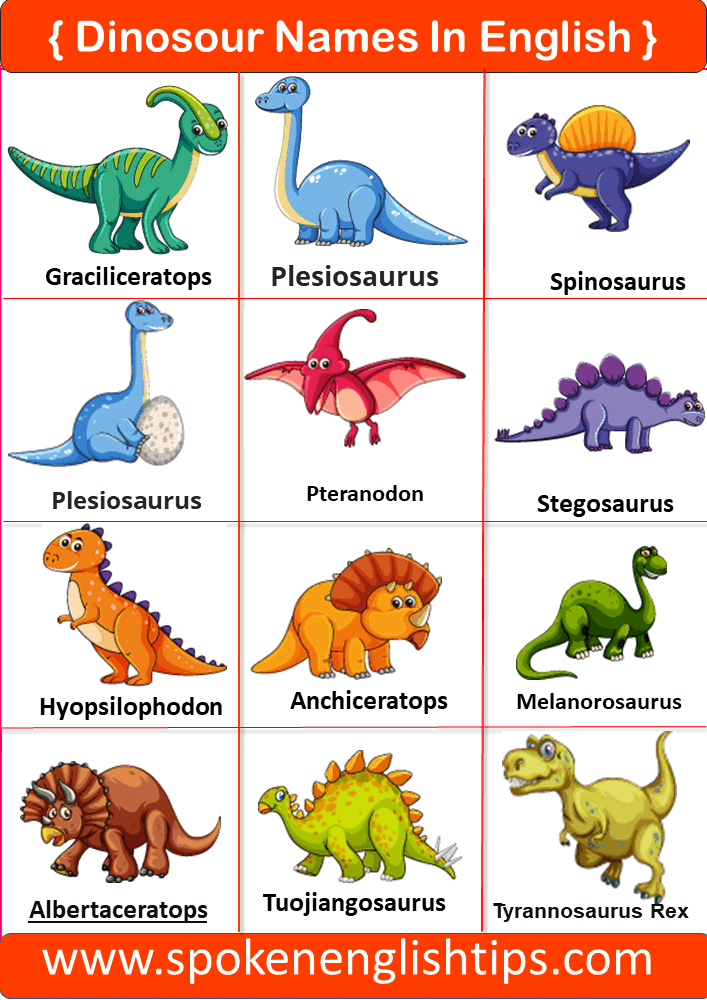 700+ List of all Animals Names A to Z
The whole list of all animal names that our researchers have written on so far may be seen here.
Aardvark
Aardwolf
Abyssinian
Addax
Adelie Penguin
Aesculapian snake
Affenpinscher
Afghan Hound
African Bullfrog
African Bush Elephant
African Civet
African Clawed Frog
African Forest Elephant
African Grey Parrot
African Palm Civet
African Penguin
African Tree Toad
African Wild Dog
Agama Lizard
Aidi
Ainu
Airedale Terrier
Airedoodle
Akbash
Akita
Akita Shepherd
Alabai
Alaskan Husky
Alaskan Klee Kai
Alaskan Malamute
Alaskan Shepherd
Albacore Tuna
Albatross
Aldabra Giant Tortoise
Alligator
Alligator Gar
Alpaca
Alpine Dachsbracke
Alpine Goat
Alusky
Amazon Parrot
Amazon River Dolphin (Pink Dolphin)
Ambrosia Beetle
American Alsatian
American Bulldog
American Cocker Spaniel
American Cockroach
American Coonhound
American Dog Tick
American Eskimo Dog
American Foxhound
American Hairless Terrier
American Leopard Hound
American Pit Bull Terrier
American Pygmy Goat
American Robin
American Staffordshire Terrier
American Toad
American Water Spaniel
Amur Leopard
Anaconda
Anatolian Shepherd Dog
Anchovies
Angelfish
Anglerfish
Angora Ferret
Angora Goat
Anole Lizard
Ant
Antarctic scale worm
Anteater
Antelope
Ape
Appenzeller Dog
Apple Head Chihuahua
Arafura File Snake
Arapaima
Arctic Fox
Arctic Hare
Arctic Wolf
Arizona Bark Scorpion
Arizona Black Rattlesnake
Armadillo
Armadillo Lizard
Armyworm
Aruba Rattlesnake
Asian Cockroach
Asian Elephant
Asian Giant Hornet
Asian Palm Civet
Asian Vine Snake
Asiatic Black Bear
Babirusa
Baboon
Bactrian Camel
Badger
Baiji
Bald Eagle
Baleen Whale
Balinese
Balkan Lynx
Ball Python
Banana Ball Python
Banana Eel
Banana Spider
Banded Palm Civet
Banded Water Snake
Bandicoot
Banjo Catfish
Barb
Barbet
Barn Owl
Barn Swallow
Barnacle
Barracuda
Barramundi Fish
Barred Owl
Basenji Dog
Basilisk Lizard
Basking Shark
Bassador
Basset Fauve de Bretagne
Basset Hound
Bassetoodle
Bat
Bavarian Mountain Hound
Baya
Bea-Tzu
Beabull
Beagador
Beagle
Beagle Shepherd
Beaglier
Beago
Bear
Bearded Collie
Bearded Dragon
Bearded Vulture
Beaski
Beauceron
Beaver
Bed Bugs
Bedlington Terrier
Bee
Beefalo
Beetle
Belgian Shepherd
Belgian Tervuren
Beluga Sturgeon
Bengal Tiger
Bergamasco
Berger Picard
Bernedoodle
Bernese Mountain Dog
Bernese Shepherd
Betta Fish (Siamese Fighting Fish)
Bichir
Bichon Frise
Bichpoo
Biewer Terrier
Bighorn Sheep
Bilby
Binturong
Bird
Cactus Mouse
Caecilian
Caiman
Caiman Lizard
Cairn Terrier
Camel
Camel Cricket
Camel Spider
Canaan Dog
Canada Lynx
Canadian Eskimo Dog
Canadian Horse
Cane Corso
Cantil
Cape Lion
Capybara
Caracal
Caribou
Carolina Dog
Carolina Parakeet
Carp
Carpenter Ant
Carpet Python
Carpet Viper
Cascabel
Cashmere Goat
Cassowary
Cat
Cat-Eyed Snake
Catahoula Leopard
Catalan Sheepdog
Caterpillar
Catfish
Cava Tzu
Cavador
Cavalier King Charles Spaniel
Cavapoo
Cecropia Moth
Centipede
Cesky Fousek
Cesky Terrier
Chameleon
Chamois
Chartreux
Cheagle
Cheetah
Chesapeake Bay Retriever
Chickadee
Chicken
Chicken Snake
Chihuahua
Chimaera
Chimpanzee
Chinchilla
Chinese Alligator
Chinese Crested Dog
Chinese Geese
Chinese Paddlefish
Chinese Shar-Pei
Chinook
Chinook Salmon
Chinstrap Penguin
Chipmunk
Chipoo
Chipping Sparrow
Chiweenie
Dachsador
Dachshund
Dalmadoodle
Dalmador
Dalmatian
Danios
Dapple Dachshund
Darwin's fox
Darwin's Frog
Death Adder
Death's Head Cockroach
Deathwatch Beetle
Deer
Deer Head Chihuahua
Deer Tick
Desert Locust
Desert Rain Frog
Desert Tortoise
Deutsche Bracke
Devils Coach Horse Beetle
Devon Rex
Dhole
Dik-Dik
Dingo
Discus
Doberman Pinscher
Dodo
Dog
Dog Tick
Dogo Argentino
Dogue De Bordeaux
Dolphin
Donkey
Eagle
Earthworm
Earwig
Eastern Barred Bandicoot
Eastern Bluebird
Eastern Brown Snake
Eastern Chipmunk
Eastern Diamondback Rattlesnake
Eastern Fence Lizard
Eastern Glass Lizard
Eastern Gorilla
Eastern Gray Squirrel
Eastern Indigo Snake
Eastern Lowland Gorilla
Eastern Phoebe
Eastern Rat snake
Eastern Woodrat
Echidna
Eclectus Parrot
Edible Frog
Eel
Egyptian Cobra
Egyptian Goose
Egyptian Mau
Eland
Electric Catfish
Electric Eel
Elegant Tern
Elephant
Elephant Seal
Elephant Shrew
Elk
Emerald Tree Monitor
Emperor Penguin
Emperor Tamarin
Emu
English Bulldog
English Cocker Spaniel
English Cream Golden Retriever
English Foxhound
English Pointer
English Setter
Fennec Fox
Fer-de-lance Snake
Ferret
Ferruginous Hawk
Fiddler Crab
Field Spaniel
Fierce Snake
Fila Brasileiro
Fin Whale
Finnish Spitz
Fire Eel
Fire salamander
Fire-Bellied Toad
Firefly
Fish
Fisher Cat
Fishing Cat
Flamingo
Flat-Coated Retriever
Flea
Florida Gar
Florida Panther
Florida Woods Cockroach
Flounder
Flowerhorn Fish
Fluke Fish (summer flounder)
Fly
Gentoo Penguin
Geoffroys Tamarin
Gerberian Shepsky
Gerbil
German Cockroach
German Pinscher
German Shepherd Guide
German Sheppit
German Sheprador
German Shorthaired Pointer
German Spitz
Gharial
Ghost Catfish
Ghost Crab
Giant African Land Snail
Giant Armadillo
Giant Clam
Giant Panda Bear
Giant Salamander
Giant Schnauzer
Giant Schnoodle
Gibbon
Gila Monster
Giraffe
Glass Frog
Glass Lizard
Glechon
Glen Of Imaal Terrier
Glow Worm
Gnat
Goat
Goberian
Goblin Shark
Harrier
Harris Hawk
Havanese
Havapoo
Havashire
Hawaiian Crow
Hawaiian Goose
Hawaiian Monk Seal
Hedgehog
Hellbender
Hercules Beetle
Hermit Crab
Heron
Herring
Highland Cattle
Himalayan
Hippopotamus
Hoary Bat
Hokkaido
Honduran White Bat
Honey Badger
Honey Bee
Honey Buzzard
Hooded Seal
Hoopoe
Horgi
Horn Shark
Hornbill
Horned Adder
Horned Frog
Impala
Imperial Moth
Indian Cobra
Indian Elephant
Indian Giant Squirrel
Indian Palm Squirrel
Indian Rhinoceros
Indian Star Tortoise
Indigo Snake
Indochinese Tiger
Indri
Insect
Insects
Irish Doodle
Irish Setter
Irish Terrier
Irish Water Spaniel
Irish WolfHound
Jackson's Chameleon
Jaguar
Jaguarundi Cat
Japanese Beetle
Japanese Chin
Japanese Macaque
Japanese Spitz
Japanese Squirrel
Japanese Terrier
Kestrel
Keta Salmon
Key Deer
Kiko Goat
Killer Whale
Kinder Goat
King Cobra
King Crab
King Penguin
King Shepherd
King Snake
King Vulture
Kingfisher
Kinkajou
Kirtland's snake
Kishu
Kit Fox
Kiwi
LaMancha Goat
Lamprey
Lancashire Heeler
Lappet-faced Vulture
Lapponian Herder
Lawnmower Blenny
Lazarus Lizard
Leaf-Tailed Gecko
Leatherback Sea Turtle
Leech
Lemming
Lemur
Leonberger
Leopard
Leopard Cat
Leopard Frog
Leopard Gecko
Leopard Lizard
Leopard Seal
Leopard Tortoise
Lhasa Apso
Lhasapoo
Liger
Lion
Lion's Mane Jellyfish
Lionfish
Little Brown Bat
Mamushi Snake
Man of War Jellyfish
Manatee
Manchester Terrier
Mandrill
Maned Wolf
Mangrove Snake
Manta Ray
Mantella Frog
Marabou Stork
Marble Fox
Marine Iguana
Marine Toad
Markhor
Marmoset
Marmot
Marsh Frog
Masked Palm Civet
Massasauga
Mastador
Mastiff
Mayfly
Meagle
Mealybug
Meerkat
Megalodon
Megamouth Shark
Mekong Giant Catfish
Mexican Alligator Lizard
Mexican Black Kingsnake
Needlefish
Newfoundland
Newfypoo
Newt
Nicobar pigeon
Nigerian Goat
Night Adder
Nightingale
Nile Crocodile
Nilgai
No See Ums
Norfolk Terrier
North American Black Bear
Northern Alligator Lizard
Northern Cardinal
Northern Fur Seal
Northern Inuit Dog
Northern Water Snake
Norwegian Buhund
Norwegian Elkhound
Norwegian Forest
Okapi
Old English Sheepdog
Olive Baboon
Olm
Opossum
Orang-utan
Orange-Crowned Warbler
Orb Weaver
Ortolan Bunting
Oscar Fish
Ostrich
Otter
Otterhound
Owl
Pembroke Welsh Corgi
Penguin
Pennsylvania Wood Cockroach
Pere Davids Deer
Peregrine Falcon
Peringuey's Adder
Perro De Presa Canario
Persian
Peruvian Inca Orchid
Pesquet's Parrot (Dracula Parrot)
Petit Basset Griffon Vendéen
Petite Goldendoodle
Pheasant
Pied Ball Python
Pied Tamarin
Pig
Pigeon
Pika
Pike Fish
Pileated Woodpecker
Pine Marten
Pine Snake
Pine Snake
Pink Fairy Armadillo
Pipefish
Piranha
Pit Bull
Pitador
Pitsky
Platypus
Pocket Beagle
Pocket Pitbull
Pointer
Poison Dart Frog
Polar Bear
Polecat
Polish Lowland Sheepdog
Polyphemus moth
Pomapoo
Quail
Queen snake
Red Diamondback Rattlesnake
Red Finch
Red Fox
Red Knee Tarantula
Red Panda
Red Squirrel
Red Tail Boa (common boa)
Red Wolf
Red-Bellied Black Snake
Red-Billed Quelea Bird
Red-Eared Slider
Red-Eyed Tree Frog
Red-handed Tamarin
Red-Headed Vulture
Red-Lipped Batfish
Red-winged blackbird
Redback Spider
Redbone Coonhound
Redtail Catfish
Reef Shark
Reindeer
Rhinoceros
Rhombic Egg-Eater Snake
Ribbon Eel
Ribbon Snake
Ringed Kingfisher
Rinkhals Snake
River Jack Snake
River Otter
River Turtle
Robin
Rock Crab
Rock Hyrax
Saiga
Saint Berdoodle
Saint Bernard
Saint Shepherd
Salamander
Salmon
Salmon Shark
Saluki
Sambar
Samoyed
Sand Crab
Sand Lizard
Sand Tiger Shark
Sand Viper
Saola
Sardines
Satanic leaf-tailed gecko
Savanna Goat
Savannah Sparrow
Sawfish
Scarlet Kingsnake
Scarlet Macaw
Schipperke
Schneagle
Schnoodle
Scimitar-horned Oryx
Scorpion
Scorpion Fish
Scottish Terrier
Scrotum Frog
Sea Anemone
Sea Dragon
Sea Eagle
Sea Lion
Sea Otter
Sea Roach
Sea Slug
Sea Squirt
Sea Turtle
Sea Urchin
Seagull
Seahorse
Tennessee Walker Horse
Tenterfield Terrier
Termite
Terrier
Tetra
Texas Heeler
Texas Indigo Snake
Texas Rat Snake
Texas Spiny Lizard
Thai Ridgeback
Thorny Devil
Thrush
Tibetan Fox
Tibetan Mastiff
Tibetan Spaniel
Tibetan Terrier
Tick
Tiffany
Tiger
Tiger Beetle
Tiger Moth
Tiger Rattlesnake
Tiger Salamander
Tiger Shark
Timber Rattlesnake
Tire Track Eel
Toadfish
Torkie
Tortoise
Toucan
Toy Fox Terrier
Toy Poodle
Transylvanian Hound
Tree Frog
Tree Kangaroo
Tree Snake
Ural owl
Vulture
Wels Catfish
Welsh Corgi
Welsh Terrier
West Highland Terrier
Western Diamondback Rattlesnake
Western Gorilla
Western Hognose Snake
Western Lowland Gorilla
Western Rat Snake
Westiepoo
Whale Shark
Wheaten Terrier
Whinchat
Whippet
Whiptail Lizard
White Butterfly
White Ferret
White Rhinoceros
White Tiger
White-Faced Capuchin
White-tail deer
White-Tailed Eagle
Whoodle
Whooping Crane
Wild Boar
Wildebeest
Willow Warbler
Xerus
Yellow-Eyed Penguin
Yellowfin Tuna
Yeti Crab
Zebra
Zebra Pleco
Zebra Shark
Zebra Snake
Read Also
1. List of common household pests
2. List of domesticated animals
3. List of herbivorous animals
4. List of omnivores
5. List of carnivores
6. List of extinct animals
7. List of extinct mammals
8. List of extinct cetaceans
9. Lists of amphibians by region
10. Lists of mammals by region
11. Lists of reptiles by region
12. List of animals awarded human credentials
13. List of cats
14. List of giant squids
15. List of historical elephants
16. List of historical horses
17. List of reptiles
18. List of snakes
Conclusion
So, this are the information about animals' names with pictures I hope you love this post. Further, if you have any queries regarding animals' names etc. Kindly let me know to form the comment below. Also did you like this post on Animals' names in English?