A long list of the various types of symbols name in English, a symbol is nothing more than a mark or sign that is used to represent or express any idea, object, or relationship. It is a very different concept and experience that connects thought and understanding. Get the complete information all about symbol name in english.
Symbols are used for all communication and data processing. To transmit the message, the symbols may be described in the form of words, letters, sounds, visual images, and so on.
A red octagon, for example, represents 'to stop,' whereas a green octagon represents 'to go.'
Symbols facilitate communication and provide a better way to represent things.
Glyphs are the technical term for these character shapes. The Unicode and HTML entity, as well as the ASCII code and HTML entity, are listed next to each glyph name. I have added the Windows ALT keystroke and the Mac counterpart for inserting the character in text.
List of Symbols name in English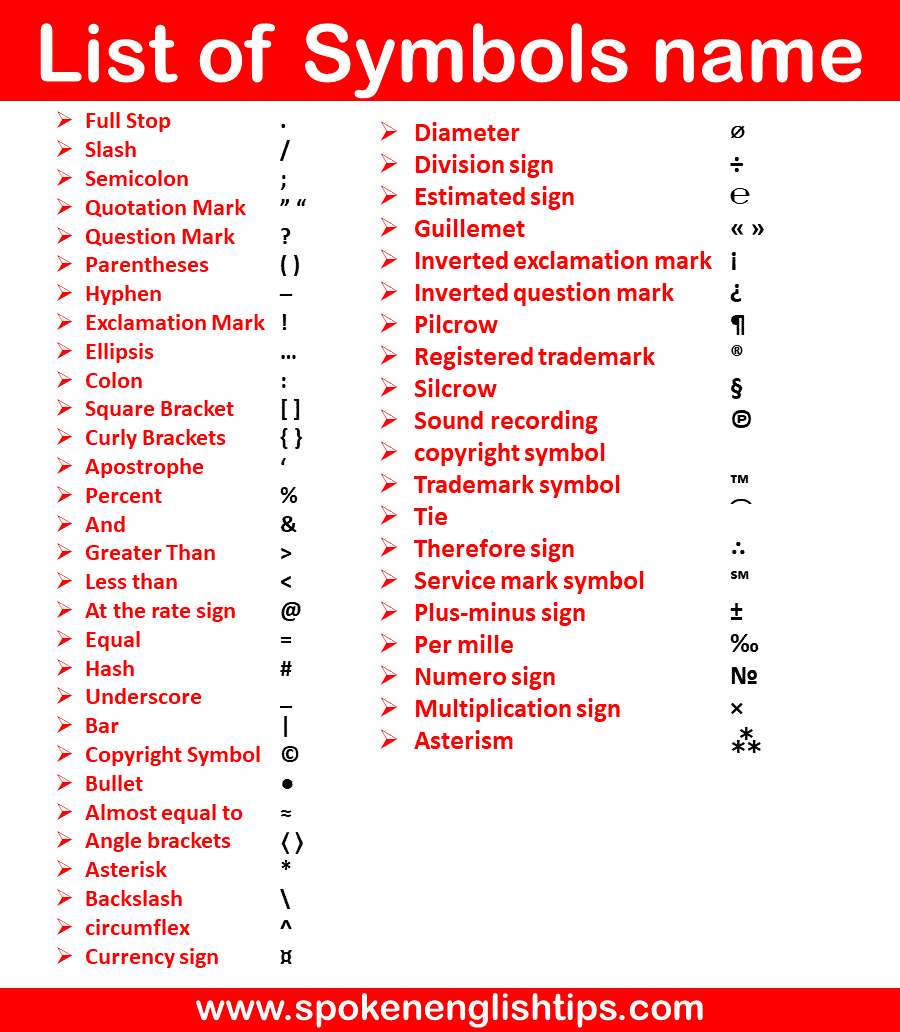 Symbols Name List
Sr. No
Symbol
Name of the Symbol
1.
,
Comma
2.
.
Full Stop
3.
/
Slash
4.
;
Semicolon
5.
" "
Quotation Mark
6.
?
Question Mark
7.
( )
Parentheses
8.
–
Hyphen
9.
!
Exclamation Mark
10.
…
Ellipsis
11.
:
Colon
12.
[ ]
Square Bracket
13.
{ }
Curly Brackets
14.
'
Apostrophe
15.
%
Percent
16.
&
And
17.
>
Greater Than
18.
<
Less than
19.
@
At the rate sign
20.
=
Equal
21.
#
Hash
22.
_
Underscore
23.
|
Bar
24.
©
Copyright Symbol
25.
●
Bullet
26.
≈
Almost equal to
27.
⟨ ⟩
Angle brackets
28.
*
Asterisk
29.
\
Backslash
30.
^
circumflex
31.
¤
Currency sign
32.
⌀
Diameter
33.
÷
Division sign
34.
℮
Estimated sign
35.
« »
Guillemet
36.
¡
Inverted exclamation mark
37.
¿
Inverted question mark
37.
¶
Pilcrow
39.
®
Registered trademark
40
§
Silcrow
41.
℗
Sound recording
copyright symbol
42.
™

Trademark symbol
43.
⁀
Tie
44.
∴
Therefore sign
45.
℠

Service mark symbol
46.
±
Plus-minus sign
47.
‰
Per mille
48.
№
Numero sign
49.
×
Multiplication sign
50.
⁂
Asterism