Phrases Exercises – Most of the common people are fond of using idioms and phrases they always use mobile phone phrases in their speaking because It Improves the Quality of Speaking. Mostly Uses Phone Phrases Exercises
Phone Phrases Exercises
Also, it improves your speaking style, and look professional so it is necessary to use these types of phrases and idioms because we can't use common structures common word meaning everywhere.
if we use again and again want types of sentences after that people make understand that you have a bad experience about English speaking so that's why this is necessary for you.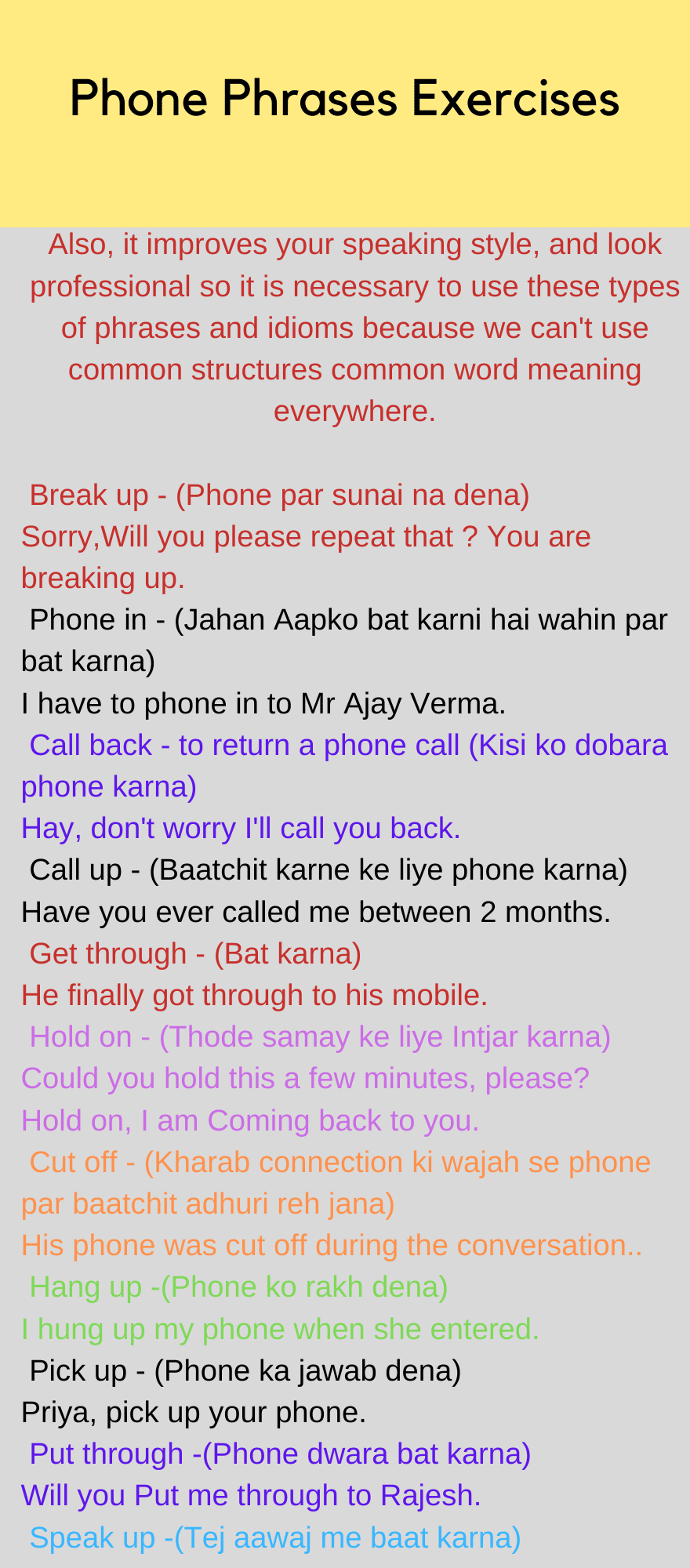 Break up

–  (Phone par sunai na dena)
Sorry,Will you please repeat that ? You are breaking up. 
Phone in

–  (Jahan Aapko bat karni hai wahin par bat karna) 
I have to phone in to Mr Ajay Verma.
Call back

– to return a phone call  (Kisi ko dobara phone karna)
Hay, don't worry I'll call you back.
Call up

– (Baatchit karne ke liye phone karna)
Have you ever called me between 2 months.
Get through

– (Bat karna)
He finally got through to his mobile.
Hold on

– (Thode samay ke liye Intjar karna)
Could you hold this a few minutes, please?
Hold on, I am Coming back to you.
Cut off

– (Kharab connection ki wajah se phone par baatchit adhuri reh jana)
His phone was cut off during the conversation..
Hang up

-(Phone ko rakh dena)
I hung up my phone when she entered.
Pick up

– (Phone ka jawab dena)
Priya, pick up your phone.
Put through

-(Phone dwara bat karna)
Will you Put me through to Rajesh.
Speak up

-(Tej aawaj me baat karna)
Why are you speaking up?
Recomended>>Learn spoken English tips in Hindi
Complete

Spoken English Course

here FREE now!!!
> > > Click Here < < <