110 tips for learn English at home, very easy steps to learn English, and fluent in English speaking. Here I gonna share with you Top "110 tips" that you can do to improve your English.
Before reading the complete article I would like to inform you to these are not the top-down steps that you have to read, these are the things which you can start learning from anywhere.
I just simply wanna say that these are the ways that following these things you can improve your fluency. Read carefully tips for learn English.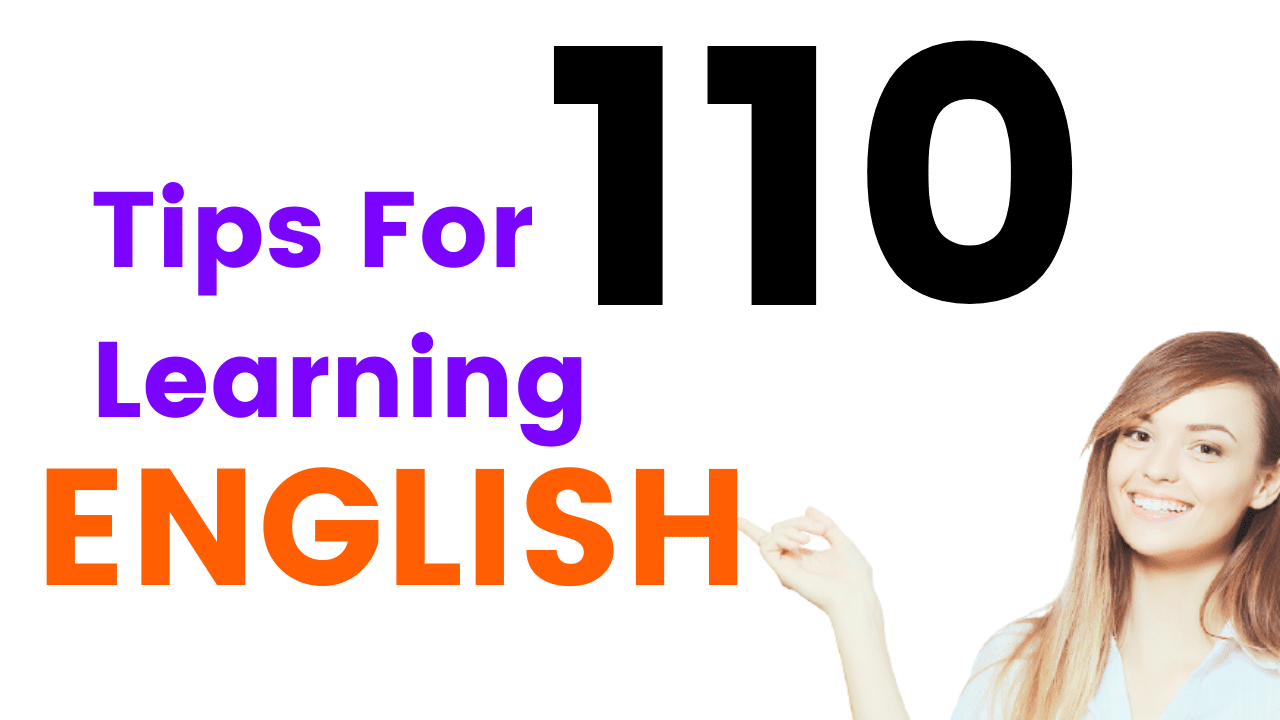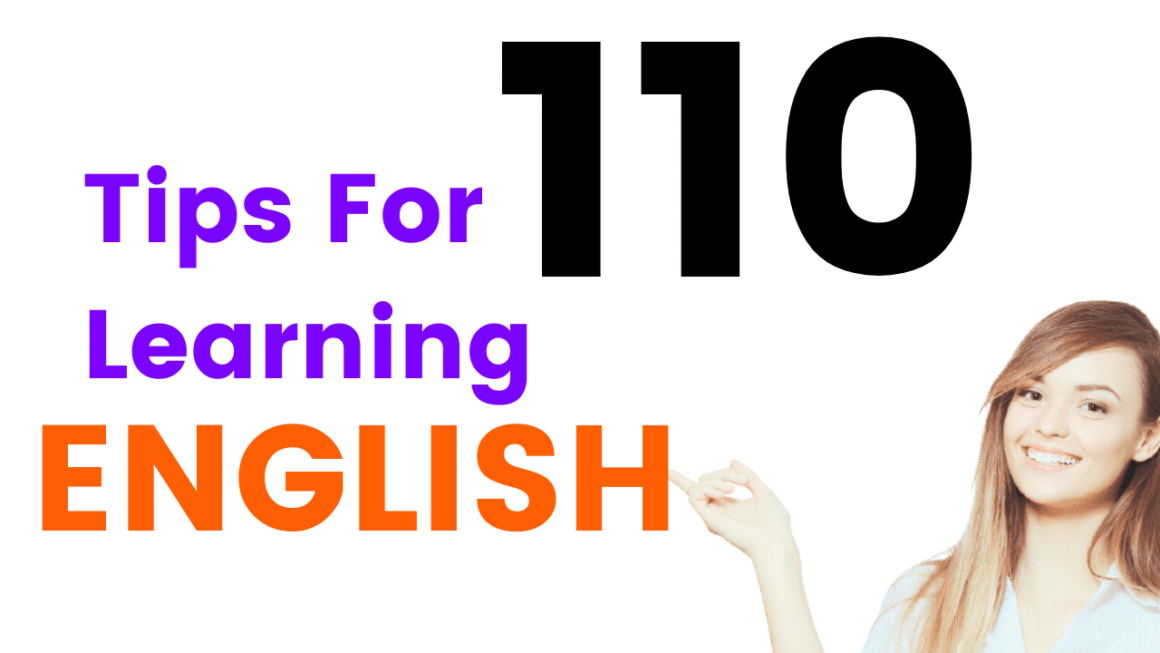 How to learn English faster : 110 Tips for Learn English
1. Whenever we start Speaking English we are afraid of English speaking. So, avoid being afraid while speaking.
2. The Second thing I would like to suggest is you don't be afraid of making mistakes and speak whatever you know. Don't think about your mistakes everyone starts like this.
3. Find a peaceful place where you can Study well and No one disturb you while studying and speaking. Where you can give your 100%.
4. Don't get distracted in class focus on the lesson while if English classes are going on. Don't focus anywhere.
5. Begin to Read anything, I would like to recommend you to take note down of vocabulary which you don't know.
6. Follow the LSRW rule, which I am going to explain in the 7,8,9 section read carefully.
7. L means first Listening, Listen carefully to whatever you listen to in English or someone talking to you. Believe me, this will enhance your Listening skills.
8. S means speak, whatever you know must speak, if you speak then your fluency will improve.
9. R means Reading, It will improve your reading and Pronunciation skills. So better to be read daily something English books.
Best tips for learn English
10. W means writing, writing improves your writing technique and also improves your English vocabulary.
11. This is very important and crucial for English learners and this is the best tip for learning English, what you need to do is make an environment to improve your English. Make surrounding yourself English… English… English… Because this is the only way which helps you to improve your fluency and English Environment necessary for motivation.
12. Practice…Practice…Practice makes Perfect. So, don't forget to keep practicing always.
13. The more you practice will improve your English so try to improve your fluency consistently.
14. Motivation, this is the only thing which you need to have always, anytime, everywhere on the daily basis. Keep motivating daily is a very hard thing but you have to So keep motivating yourself always.
15. Read biographies of readers that will improve your English. Reading biographies can make you the best reader and improve your knowledge.
16. Focus on communication, Communication is the only way where you can implement your ideas of learning English. So, try to communicate with someone always.
17. Make friends who speak English, Making around yourself in a friend list who ager to "speak" will be better for you, then they will motivate you to speak English.
18. Try to learn sentences that you find difficult to make and make notes on them.
19. Make a notebook of the word list and Keep practicing on it, At list once a day focus on it.
20. "Structure" do you know what does it mean, Structures are a very important role in the way you speak. So formatting your English language.
21. Do you know, How I will be able to learn and speak English? First I followed "LSRW" and also I mostly try to learn more and more sentences ways to make sentences.
22. Don't translate everything, When I was a student I used to "translate" my all sentences which I don't know. As you know It is difficult to find all the words in our dictionary, So most of the students choose to go with "Google translate". So better to make sentences in your language instead of translating on google.
23. Be consistent to learn Anything, Believe me, this will improve the way you think.
24. Learn words meaning daily. Better to learn whatever things around you. If you don't know go to the kitchen and know the words which you don't know.
25. Be Realistic, if you are thinking you can do learn English in a day impossible. So try to spend 1 hour a day daily basis.
26. Learn "Spoken English Tips" by visiting our sites once on a daily basis.
27. Pay attention to pronunciation while speaking from the beginning.
28. Tell your friends about your plan and make a community of English Learners.
29. Memorization is very very important so keep memorizing your words once a week.
30. Give yourself time and choose a long-term goal to remember anything and learn on the daily basis.
31. Whenever learning new words try to learn their root words.
32. Try to speak English more and more where ever you go.
33. Never try to translate English into your own language, Always try to learn how to make sentences and speak through it. Think always in English to fluent in English, And talk to yourself. Not everywhere in public places…..😂 Otherwise people will laugh at you.
34. Never try to learn English from the book, like if you want to learn driving then you have to drive a car also you have to speak whatever you learn.
35. Learn grammar and implement it on daily basis during the conversation.
36. Learn formation of sentences daily make a diary for it and write down and practice on it.
37. Better to go to your English classes either if you are doing "English Speaking Course" must debate in the coaching and "Group discussion" it is one of the best ways to improve your English.
38. Never Shy to anyone always speak because if you want to improve your English you have to speak English more and more.
39. Better to speak with girls when you are in Coaching, why am I saying because It removes your shyness towards girls if you are an introvert.
40. Always try to speak in different ways of the same things, if you have the basic knowledge of English speaking always focus on "How many ways can I say this thing?"
41. Call customer care and talk in English with them, which will improve your English.
42. No one in the world who has knowledge of Everything knows, so don't worry about it. Focus on learning words and Pronunciation.
43. Become a teacher, It will be a better option If you want to learn and speak English.
44. Be a certified teacher, no one wants a learn wrong things
45. Learn from social media, Follow more social media follow some popular pages which give you "English speaking tips"
46. Learn from the free mind, and for the free mind, you have to sleep well, So take restfully for learning new things.
47. Take an "English course" if you are living in an English country.
48. Daily practice is needed it is important to remind whatever you learn and if you will continuously speak, you will become a champion in English.
49. Utilize the technology around you. I think you may have the internet on your mobile use it and explore it to the world,
50. Most important keep motivated yourself, 'Motivation' makes you perfect for learning English, Keep motivated for learning something new on daily basis.
Tips For Learn English
51. Better for you also if you listen to BBC, Speeches in English, Podcasts: There are full of resources online which will help you to learn English.
52. Whenever you speak, must try to use another word. Don't use the same words again and again. So, Better to be Find Ways to say which you can find "Spoken English Tips"
53. When we talking usually sometimes pronounced wrong things if you are finding it difficult to pronounce, then try to correctly pronounce. Those words which are difficult to pronounce, try to practice on it either you can search on google.
54. If you are not knowing something the correct pronunciation, it's simple to find. Just what you need to do, go to the internet and search "how to pronounce" and that "word" by this way you can find correct pronunciation.
55. Try to think about your weak point i.e which area you want to improve and focus on it. Yaa, you have the better option don't forget your strong point but also focus on your weak point.
56. Remembering Idioms are a little bit difficult, also it impossible to memorize all the idioms but if you use it in your "English speaking" these are the sign of perfect English speaker.
57. Learn casually from textbooks and watch more English movies to learn casual "slangs".
58. Ensure your English is appropriate for the situation. Slang is OK among friends, but not in a business meeting. Determine when and where you should utilize the words and phrases you've learned.
59. Please remember that when our level is high, it takes longer to improve. When we are starters, we usually make the most progress.
60. With the help of a friend, you can improve your English skills. You'll have someone to practice with, and you'll be able to encourage one another to learn.
61. Understand that you have achieved if you have done your hardest!
62. Students may pass an English test but struggle to converse effectively with native English speakers. You should be pleased with yourself if you can freely communicate in English.
63. Keep up the good work! If you stop speaking English, you will notice that your level drops, and all of your hard work will be worthless.
64. Focus on English grammar "how do you use during in speaking?", Phrases and Pronunciation.
65. Learn more Basic English Tips from Spoken English Tips which is Free for everyone.
66. Learn Advance English Speaking Tips where you will learn Advance structure formation of sentences.
67. If you want to practice English conversation, there are lots of topics which you can practice and learn more about.
68. Keep in mind, Only English speaking is not a good skill, you must have an idea that where and how to speak according to the situation. So soft skill is also very important skill that you must have.
69. There are a lot of irregular verbs in English. You should practice with them.
70. Learn more about body language. Make sure you have perfect body language if you are working in a professional company.
71. Learn more about personality tips from the internet.
72. If you are going for an interview, you must have awareness of interview tips.
73. Learn more from here Daily use of English sentences.
74. If you want more information about spoken English you must know spoken tips.
75. Go with the Best books for learning English speaking.
76. Debate! this is the most important if you want to explore your fluency. So, try to debate with your friends in the classroom as well as on the topic wherever group meeting is going on.
77. Must meet new people. Make the effort to mix with English speakers in your locality.
78. Don't worry about if your accent is not perfect, the most important is the flow of your speech. Neither speaks so fast or so slow.
79. Use phrasal verbs in your English speaking, if you are not knowing then go to google there are "100s" phrasal verbs are available on the internet.
80. Make an environment for studying in your room, point out everything which you want you to learn and take notes down in your notes, and put them in front of them.
81. Don't make excuses not to learn. You are never too young or too old to start learning English.
82. Try to study phrases and implement them instead of learning words.
83. Better to take online courses and lessons for Learning English speaking.
84. If you are facing nervous about English speaking take a deep breath and try to speak with a girl this thing will improve your fearless.
85. Take a test to yourself that whatever you are learning to implement them. It is a better way to improve your English.
86. Subscribe best youtube channels or Podcasts, Most of the youtube channels will provide you best knowledge about English Speaking.
87. Keep a dictionary, It will help you to learn new words meaning for you not translating always. So, better to keep "Pocket Dictionary" with yourself.
88. If you are going abroad, it will be a golden opportunity for you. You won't have to work on yourself about learning Because there is already a great environment for English Speaking.
89. Utilize your friends for learning English.
90. Use social media follow the social media like the "Senglishtips" page, which is available on Facebook, Instagram, and also on Telegram.
91. Use Pinterest for infographic learning, most people share their images about English tips. There is a page "senglishtips" which you can follow on Pinterest.
92. Listen to English Radio in your House. It will help you even if you are not listening and speaking, will help you to enhance your listening skills.
93. For Enhancing your listening skills you must listen to English music, which will also help your pronunciation technique.
94. Join online communities and groups in social media.
95. Read more and more books. This is the better option for you.
96. Start an online blog and write through it. This is one of the best options for you and also for improving ENGLISH.
97. Speak as soon as possible.
98. Starting reading books.
99. Must keep your personal goal in your mind
100. Use cards to boost your vocabulary.
101. Learn more sentence formation and greetings.
102. Watch TV and must watch English movies.
103. Change your phone settings into 'English'
104. Must follow a community for English learners.
105. Must prepare for ILETS if you want to go abroad.
106. Make a routine for yourself and go through it.
107. Record yourself and listen to how do you speak.
108. Message a people in English. retter to work on communication.
109. Must improve your Listening, writing, and reading skills.
110. Last but not least must read and follow "Spoken English Tips"
So, Guys, these are the Best Tips for learn English I hope you love it, if you have any queries regarding this must comment below. Further, if any mistakes must comment below to resolve this, thanks.