Learn daily use English sentences frequently here. If you are a beginner then I recommend you must read this post entirely. Here you will get 100+ Daily use English sentences used in daily life with phrases. And believe me, this gonna be very helpful for you.
Question is asked by Alis, Hii, Admin I want daily use of English sentences. Can you suggest to be the best daily use English sentences in home to improve my English?
Ans: Well, Alis Here is your answer about the daily use English sentences.
Daily Use English Sentences
Common English Sentences used in daily life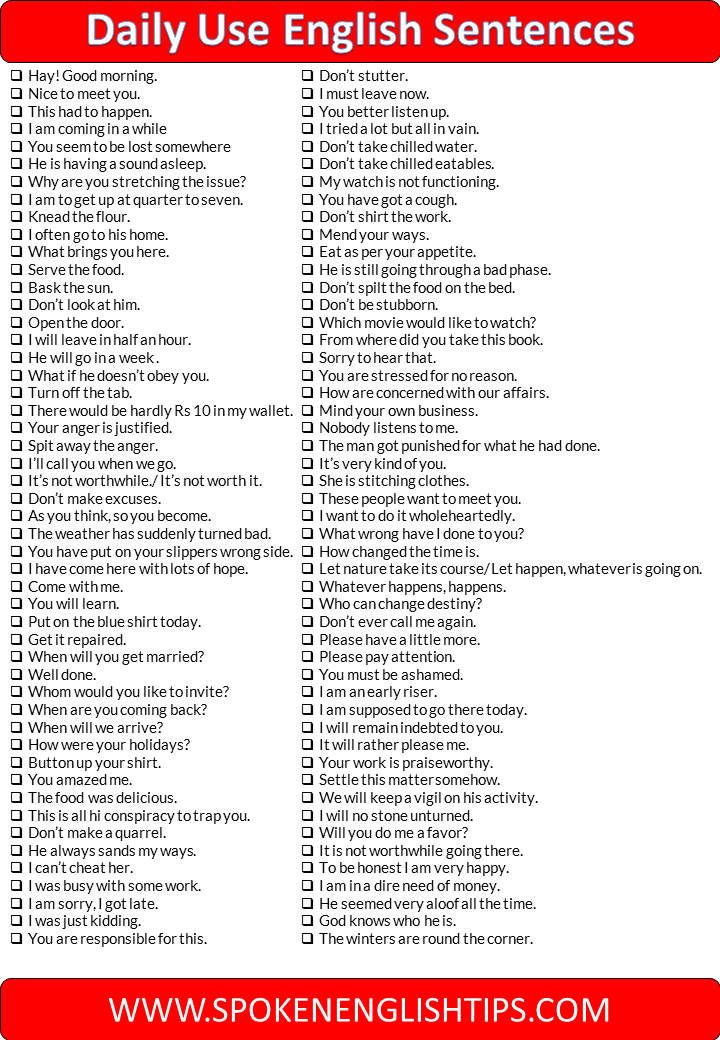 List of daily use English Sentences
Hay! Good morning.
Nice to meet you.
This had to happen.
I am coming in a while
You seem to be lost somewhere
He is having a sound asleep.
Why are you stretching the issue?
I am to get up at quarter to seven.
Knead the flour.
I often go to his home.
What brings you here.
Serve the food.
Bask the sun.
Don't look at him.
Open the door.
I will leave in half an hour.
He will go in a week or so.I can't find my charger.
What if he doesn't obey you.
Turn off the tab.
There would be hardly Rs 10 in my wallet.
Your anger is justified.
Spit away the anger.
I'll call you when we go.
It's not worthwhile./ It's not worth it.
Don't make excuses.
As you think, so you become.
The weather has suddenly turned bad.
You have put on your slippers wrong side.
I have come here with lots of hope.
Come with me.
You will learn.
Put on the blue shirt today.
Get it repaired.
When will you get married?
Well done.
Whom would you like to invite?
When are you coming back?
When will we arrive?
How were your holidays?
Button up your shirt.
You amazed me.
The food was delicious.
This is all hi conspiracy to trap you.
Don't make a quarrel.
He always sands my ways.
I can't cheat her.
I was busy with some work.
I am sorry, I got late.
I was just kidding.
You are responsible for this.
Don't stutter.
I must leave now.
You better listen up.
I tried a lot but all in vain.
Don't take chilled water.
Don't take chilled eatables.
My watch is not functioning.
You have got a cough.
Don't shirt the work.
Mend your ways.
Eat as per your appetite.
He is still going through a bad phase.
Don'tspill the food on the bed.
Don't be stubborn.
Which movie would like to watch?
From where did you take this book.
Sorry to hear that.
You are stressed for no reason.
How are concerned with our affairs.
Mind your own business.
Nobody listens to me.
The man got punished for what he had done.
It's very kind of you.
She is stitching clothes.
These people want to meet you.
I want to do it wholeheartedly.
What wrong have I done to you?
How changed the time is.
Let nature take its course/ Let happen, whatever is going on.
Whatever happens, happens.
Who can change destiny?
Don't ever call me again.
Please have a little more.
Please pay attention.
You must be ashamed.
I am an early riser.
I am supposed to go there today.
I will remain indebted to you.
It will rather please me.
Your work is praiseworthy.
Settle this matter somehow.
We will keep a vigil on his activity.
I will no stone unturned.
Will you do me a favor?
It is not worthwhile going there.
To be honest I am very happy.
I am in a dire need of money.
He seemed very aloof all the time.
God knows who he is.
The winters are around the corner.
Don't copy others.
Common Daily use of English Sentences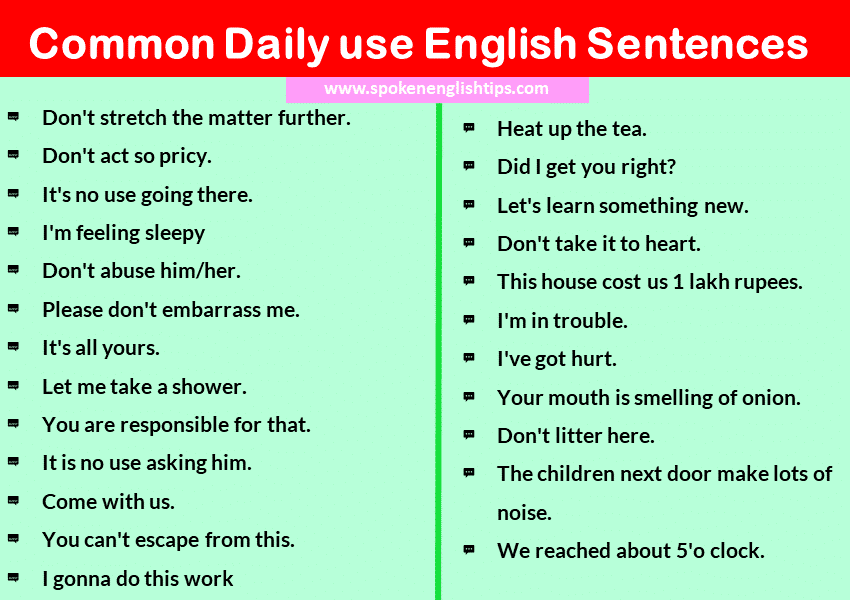 Don't stretch the matter further.
Don't act so pricy.
It's no use going there.
I'm feeling sleepy
Don't abuse him/her.
Please don't embarrass me.
It's all yours.
Let me take a shower.
You are responsible for that.
It is no use asking him.
Come with us.
You can't escape from this.
What did you say?
Use your brain.
The cake will take fifteen-minute to prepare.
The water is running over. Turn the tap off.
Heat up the tea.
Did I get you right?
Let's learn something new.
Don't take it to heart.
This house cost us 1 lakh rupees.
I'm in trouble.
I've got hurt.
Your mouth is smelling of onion.
Don't litter here.
The children next door make lots of noise.
We reached about 5'o clock.
It's not my fault.
Mind your tongue.
Reduce it.
It was a little expensive.
Is it good?
Don't do that.
We are not on talking terms.
Get ready.
We exchanged hot words.
Don't talk to me like this.
It will be better for you.
Sorry, it escaped my mind./ Sorry, it slipped my mind.
How can you be so selfish?
It's all doing.
Don't you talk to him?
Don't mess with me.
He is frightened.
Keep in touch.
Keep in mind.
Get me ice cream.
Let him go.
Don't spoil your life.
He often lies.
You have no right to order me.
I can't understand.
Let me see.
Do not wink.
Don't be silly.
You are wrong.
It's too late.
He/She is kind.
Do me a favor.
It's too late.
Come to the point.
I have no idea.
It doesn't make sense.
How does it matter?
I find it difficult.
I'm scared.
He/She is honest.
Is it yours?
Are you mad?
It's clean.
Control yourself.
I have no other alternative.
Are you there?
I hate you.
Now what?
What next?
What to see?
I'm not ready.
Serve food.
Leave me alone.
Are you going?
I like both.
Charge your mobile.
I read the book in two days./It two days to read the book.
I can't move.
I can't sleep.
I can't eat.
I don't know.
Bring him in.
I will participate.
Nobody came.
The power has gone off.
The electricity has gone off.
Be careful.
Not at all.
Listen to me.
Do it right.
What to do?
I am just coming.
Don't drag me into this.
Don't nag me
Daily use of English Sentences in Home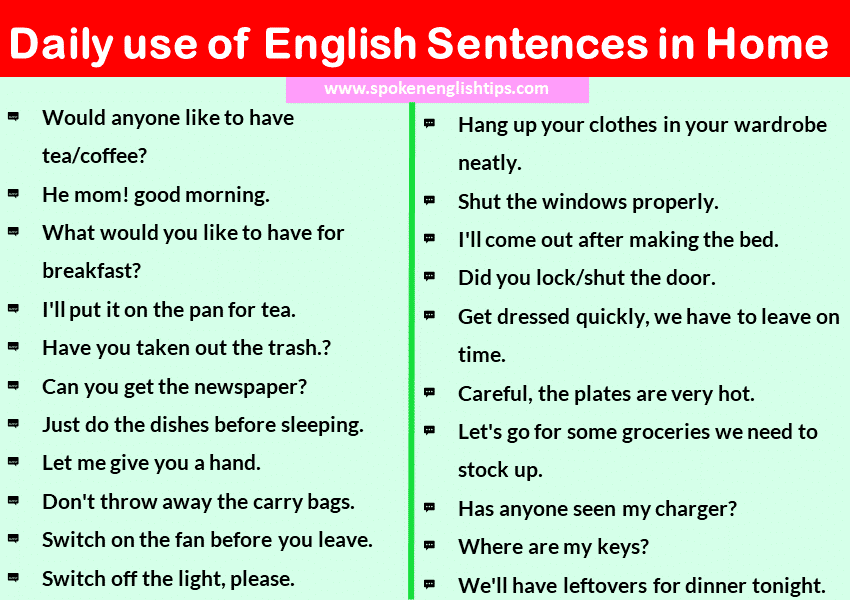 Would anyone like to have tea/coffee?
He mom! good morning.
What would you like to have for breakfast?
I'll put it on the pan for tea.
Have you taken out the trash.?
Can you get the newspaper?
Just do the dishes before sleeping.
Let me give you a hand.
Don't throw away the carry bags.
Switch on the fan before you leave.
Switch off the light, please.
Hang up your clothes in your wardrobe neatly.
Shut the windows properly.
I'll come out after making the bed.
Did you lock/shut the door.
Get dressed quickly, we have to leave on time.
Careful, the plates are very hot.
Let's go for some groceries we need to stock up.
Has anyone seen my charger?
Where are my keys?
We'll have leftovers for dinner tonight.
Be nice to your mom/sister.
Draw the curtains.
Bye! I'm off to work, I'll see you in the evening.
On, weekdays I wake up at 5 in the morning.
Wait, the washroom is engaged.
The tap is out of order.
Turn it the other way round.
Wow! now it works.
You must need something.
I need some money.
I will return it.
By what time will you return it.
Maybe by tomorrow.
Here you are.
Remove the spider webs.
The sun is getting in.
Let's go and sit out in the sn.
Your favorite flatbread.
Show me.
Can I taste it?
Don't drool.
Toast a piece of bread as well.
It's delectable.
I want more.
You cannot take more.
Why? Why can't I take more?
Your stomach must be full.
Where are my pants?
I can't find them.
In your closet.
I've already checked there.
They are not there.
Here they are!
You are doing what I am doing Are you imitating me.
Don't imitate me.
There is a bit ahead.
Don't wing.
He knows all about it
For real?
You act really well!
I don't wanna talk to you.
I was just pulling your leg.
Now stop staring at me.
I've got to go.
Where have you got to go?
I'll be back in 10 minutes.
All right, bring 1 packet of milk while coming.
You seem gloomy.
What's the matter.
Just like that.
Did anybody say anything to you?
It's nothing like that.
I already told you.
Don't get involved with him.
There is a limit.
Don't interfere in my business.
I'm telling you.
He is not a straight shooter.
Don't spread rumors.
I will leave no stone unturned.
This is crazy.
You mean the world to me.
Keep it under wraps.
Do you understand anything?
You messed everything up.
Don't make a scene.
Stop spying./Stop prying.
I don't even know her.
Do whatever you want to do.
Let me sleep in peace.
Make the bed.
Set the table.
Sweep up. /Do the sweeping.
Who is going to mop up?
THat's your job.
I'm not going to do that.
Alright! Then do the dishes.
And tell her to do the laundry.
She is cooking.
Have you kneaded the dough?
I'll out the chapatis?
What out? the milk is going to boil over.
You are too much! you always scare me.
I was going to stair the milk.
Arrange the flowers.
Did you water the plants?
Yes, I did.
Take out the trash.
Now, I'm exhausted.
And I'm going to hit the sack.
So am I
Good night!
Sleep tight.
Spoken English Guru Daily Use English Sentences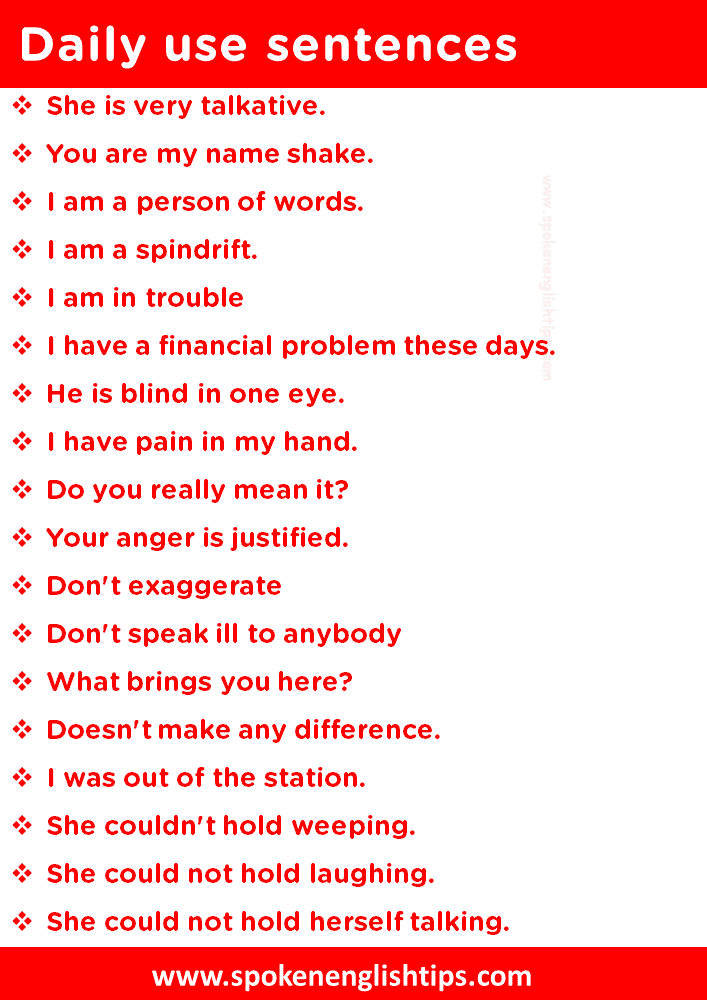 She is very talkative.
You are my name shake.
I am a person of words.
I am a spindrift.
I am in trouble
I have a financial problem these days.
He is blind in one eye.
I have pain in my hand.
Do you really mean it?
Your anger is justified.
Don't exaggerate
Don't speak ill to anybody
What brings you here?
Doesn't make any difference.
I was out of the station.
She couldn't hold weeping.
She could not hold laughing.
She could not hold herself talking.
Move out of my way.
What a shame!
He is so skinny.
Get off the car.
I have got a car.
He has got a computer.
Let it be./Forget it./Leave it.
I met with an accident yesterday.
Where does this road go to?/Where does this road lead to?
You have given me a rupee extra.
The sky is overcast.
It's a big deal for me.
Use your brain.
That's the way.
Please get in.
Please come in.
What does it mean?
I will help you.
Nobody came.
Please forgive me.
Drop me home.
May you live long.
This had to happen.
Don't drag your feet.
The truth is always bitter.
You need to remain calm.
He was stammering.
Touchwood!
Behave yourself.
Trust me.
YOu are so dull!
I can't wait.
I can't believe it.
Let me see.
You deserve this only.
Stay within your limits.
Consider me your own.
Are you coming with me?
Don't disturb my mind.
Don't give me this much freedom.
You look younger than your age.
He looks older than his age.
I am feeling an appetite.
You should be ashamed of yourself.
English Sentences Used in Daily Life Conversation
Hello! Where are you going?
Accompany me to the shop.
Accompany me to the mall.
Why don't you accompany me?
Always accept your mistakes.
Always appreciate others.
Always believe in yourself.
Always get a second opinion.
Ask him to get my laptop.
Ask him to call me after 5.
Ask him to take medicine on time.
Can you ask him to buy bread?
Be careful not to fall down.
Be careful with your words.
Be careful the pan is hot.
Can you be careful with my mobile?
Please check if the geyser is off.
Please check, someone's at the door.
Can you please check my bill?
Call me when you are free.
Call me at once.
Call me once you get home.
Come home as soon as possible.
Come back with some good news.
Come over for dinner tonight.
Come inside only when I call you.
Convey my regards to your parents.
Convey my apologies to them.
Convey my best wishes to Rahul.
Don't be rude to anyone.
Don't be shy with anyone.
Don't be stingy, be generous.
Don't behave like a child.
Don't believe everything you see.
Don't build a castle in the air.
Don't call me at this number.
Don't come unless I phone you.
Keep your vice down.
Keep me in the loop.
Keep me updated.
Keep your advice up to you.
Keep your room clean.
Keep everything
Daily use of English Sentences for Teachers
Bring the attendance register.
Where is the chalk piece?
Clean the blackboard.
Has the headmaster come?
Which period is this?
Who is your class teacher?
How many periods are there in total in your timetable?
What is your class strength?
Who is your English teacher?
Ma'am my parent wants to meet you on Saturday.
Have you shown this notice to your parents?
Ma'am, your child didn't bring her books today.
Maths is a very tough subject.
Our ground is very neat.
Does this fan work?
The last period was very dull.
Teachers are becoming very strict these days.
Our science teacher gives a lot of homework.
Why are you late?
How did you come here?
Invite your parents to the annual function on Sunday.
Heavy traffic blocks the road.
The headmaster is very strict.
Our teacher is friendly with us.
Let's go to the cantiene.
Pay attention, I am starting the lesson.
Write all the synonyms words from the textbook into your notebooks.
Those who have not completed their homework please stand up.
Read page no. 11,12 and 13 of your English Book.
Note down the exam schedule.
The English exam was postponed to Friday
After the exam students will go home.
Collects the books from the book store.
Students, please, show the school progress card to your parents and get their signatures.
Dear Teacher, Kindly make my child sit with the bright students.
Please write down the descriptions properly.
You come here and read the second paragraph.
Well done! Give him a big round of applause.
Please your child's diary on a daily basis.
All of you please stand up and make a move.
Students move to your classes row-wise.
Please do not talk and move your head during the test.
The teacher asked him to stay back after school hours for rehearsal.
Would you like to enroll your child in a painting class?
Raise your hands if you know the answer.
You all are singing with me.
Don't make a noise in the class.
Teacher, our school bus is always late.
Bring your father's phone no together I want to talk to him.
Please pack your bag nicely.
Have you checked your bag?
All the participants will come and stand in the front row.
please clean the board.
Will you bring your project tomorrow?
Who is your principal?
How many semesters are there in a year?
What is the strength of your school?
have you put all the books in the bag?
All will assemble in the hall for prayer.
The English lesson is not very difficult.
The floor of the school is very clean.
Do the air conditioner work?
The last year of school was very boring.
I can't read anymore.
Our math teacher is very intelligent.
How did you come to the school?
I got late because of heavy traffic.
My teacher is very strict.
Our teacher is friendly with us.
Can we go to the canteen?
Drink a lot of water.
Why do they give the grades late?
Can I come to your office?
How should I pronounce this word?
Avoid coming late to school.
Spell the words correctly.
Write the full form of U.N.
Would you give an example of these?
Could you speak a little louder?
What do you mean by saying this?
I couldn't understand today's lesson.
Wait for just a minute or Second.
When is your birthday teacher?
Excuse me, Can I talk to you for a minute.
Sorry for being late.
I am not well can I go to the restroom.
Teacher, please change my seat.
Students, bring a party tiffin tomorrow to celebrate the festival.
Everyone will come in the school uniform for the P.T.M.
Teachers will escort their classes.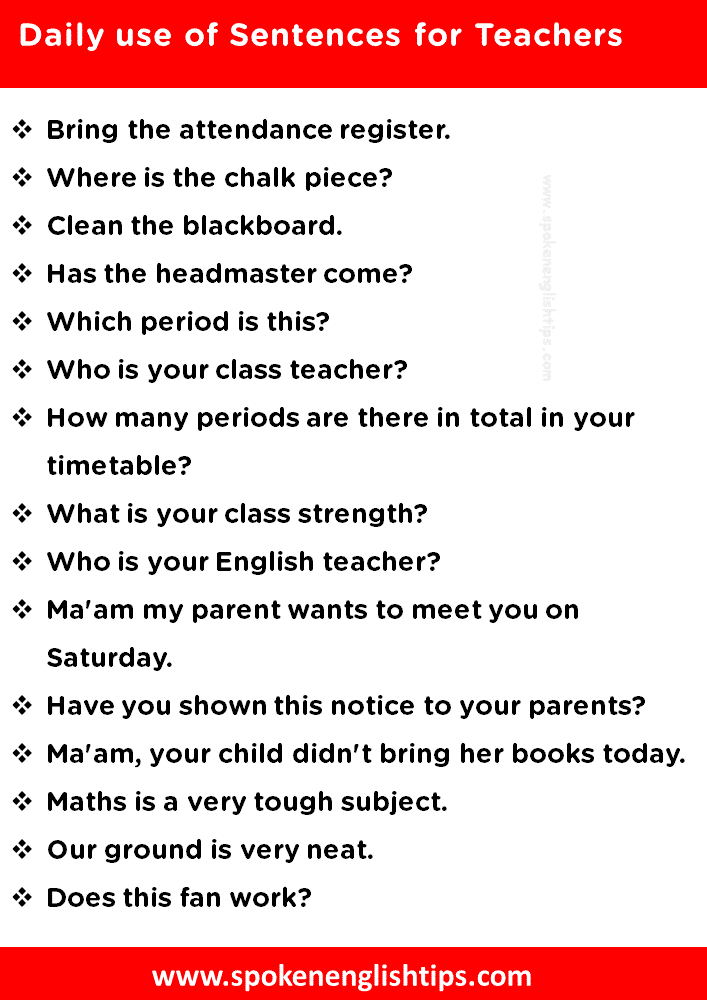 Simple Daily use English Sentences for Students
Have patience.
Hold it.
Hold my hand.
hurry up
Good morning sir.
Take your seats.
I am going to take attendance.
Who wants to take attendance today.
Please say here when I call your name.
Have you all done your homework?
Yes, sir, we have done.
Hand your homework in.
Let me check the homework.
Stay seated.
Form a queue.
Get in line.
Come one by one.
Speak one at a time.
Wait for your turn.
What have you written here?
It's a little messy.
Try writing neatly.
Take out your English books.
Open your book on page 54.
Turn to page 45.
Riya, bring your notebook.
Revise this chapter.
Read attentively.
Sir, I have a question.
Raise your hands please, don't call out.
Daily use of English Sentences for Child
Clean it.
Repeat it.
Repeat after me.
Take a bite.
Take a sip.
Put your books in the bag.
Never mind.
Try again.
Get up.
Wake up.
Stand still.
Don't move.
Right now.
Taste it.
This one.
Do it fast.
Hurry up.
Go Upstairs.
Come downstairs.
Look here.
Look at me.
Take it.
Hold it.
Anything else.
Nothing Else.
Be careful.
Take a bath.
Go and play.
Give me.
What is this?
Show me.
Listen to me.
I know.
I don't know.
Stand up.
Sit down.
Eat it.
Walk slowly.
Come here.
Speak loudly.
Touchwood.
Do it right away.
My stomach is upset.
Don't overeat.
Why not!
Are you sure?
I am sure.
What happened?
Understood?/ Got it.
How will you go?
Put on the shoes.
Take off the shoes.
Put on the clothes.
It's raining.
Switch on the fan.
When it happend?
As always./As usual.
Forget it.
What's in it?
Don't sit idle.
Get to the work.
He is on the way.
Wait for me.
Have another one.
I am setting the alarm.
Wait for a moment.
Don't eat it up.
Don't drink it up.
Who said.
Keep quiet.
Come in.
Get ready.
Anything special?
Nothing special.
Don't shout.
Go and study.
Have patience.
Shut up.
Don't fight.
Don't jump.
You will fall down.
Do you need anything?
Set the alarm.
What's this called?
Behave properly.
Move aside.
Move a bit.
Please understand.
Don't forget.
I forgot.
Don't be shy.
Eat slowly.
Save time.
Move ahead.
Tell me.
Put them incorrectly.
This is easy.
Now you try.
Go back.
You are very bad.
You are very good.
My hands are dirty.
I'm thirsty.
I'm hungry.
I am angry with you.
Do you know?
Don't lie.
Don't be lazy.
Why are you silent?
Why are you not answering?
Are you sick?
How did you get hurt?
Don't drink cold water.
Don't eat ice cream.
Hold my hand.
Don't play outside.
Move a bit.
Can't you sit still?
Change your clothes.
Where are your slippers?
Wear your slippers.
Chew your food.
Who gave you the candy?
Don't argue.
Let papa work.
Don't make a noise.
Brush your teeth properly.
Rinse your mouth.
Write down.
Write it down.
Then we will play.
Do you know
Set the table.
Very good.
Go to bed.
Drink slowly.
Turn off the tap.
Don't talk to me.
Comb your hair.
Don't make faces.
Come to me.
GO to your papa.
Let mummy sleep.
Show your hands.
Where is your doll?
Don't drag your feet.
Do not lose it.
Don't break it.
Did mam say anything?
Bring your diary.
The teacher will call you.
Don't do it.
Ask papa.
Are you full?
Finish your homework.
Don't touch it.
Don't tear your page.
Tie your shoelaces.
Stop watching tv.
Don't bite your nails.
You watch tv a lot.
Let's go outside.
Don't tease me.
You don't listen to me.
Did you like it?
Are you thrusty?
Go out and play.
Come to my lap. (godi)
Let's play a game.
You won.
Mummy lost.
Is it tasty?
EASY! don't push.
Don't touch my mobile.
What are you doing?
Just coming!
Well done.
Do your work on your own.
Go get a tissue from there.
It's morning.
It's time to take a bath.
It's time to sleep.
You are my favorite.
It's too late son.
It's time to leave.
Say Goodbye.
Say Goodbye to uncle.
Daily use of Small Sentences for child
Listen to me.
Have patience.
hold it.
Hold my hand.
Hurry up.
Keep quiet.
Listen to me, child.
Look at me.
Look here.
I know.
I don't know.
I forgot.
Go.
Come.
Don't do it.
Please go.
Come here.
Want to eat.
Drink it.
I am hungry.
I am trusty.
Let's play a game.
Move aside.
My hands are dirty.
Never give up.
never mind.
Never.
No problem.
Nothing.
Right now.
Do it fast.
Goodbye.
Sit down.
Shut up.
Stand still.
Take a bite.
Take a sip.
Take bat.
Take it.
Taste it.
That one.
Then we will play.
This one.
Wake up.
Walk slowly.
Very bad.
Believe me.
Go there.
Hay! Mom.
Bye! Dady.
Read Also:
Download Daily use of English sentences in English Pdf FREE Download
So, these are the sentences for "daily use English sentences". I hope you like it further if you need improvement or any quarry regarding the daily use English sentences please let me know. If you want to support me please share this article on social media. Thank you.