Apakah Anda dapat menemukan semua nama warna dalam bahasa Inggris? Kami telah membuat daftar fantastis semua nama warna dalam bahasa Inggris, bersama dengan gambar. Dapatkan semua daftar warna Nama dengan gambar.
Nama Warna
Warna, Seperti yang kita ketahui sebelumnya disebut warna, adalah properti persepsi visual yang sesuai pada manusia dengan kategori yang disebut merah, hijau biru, dll. Seperti yang kita ketahui warna berasal dari Spektrum Cahaya ( spektrum elektromagnetik adalah rentang frekuensi dan panjang gelombang ).
Dalam fisika, kategori Warna dan spesifikasi fisik warna juga dikaitkan dengan benda atau bahan berdasarkan sifat fisiknya seperti penyerapan cahaya, pantulan, atau spektrum pancaran.
Secara sederhana, saya ingin mengatakan Kami melihat variasi warna karena perbedaan panjang gelombang dan frekuensinya. Setiap warna memiliki 'panjang gelombang' dan 'frekuensi' yang berbeda. Warna biru memiliki "panjang gelombang" yang rendah sehingga tersebar, itulah sebabnya 'Langit' tampak biru.
Jadi, secara sederhana, Anda dapat memahami bahwa warna-warna yang memiliki panjang gelombang lebih banyak dapat menempuh jarak yang lebih jauh.
Jenis Warna

Warna dapat dibagi menjadi tiga kategori:
Tiga Warna Utama: Biru, Merah, Kuning
Tiga Warna Sekunder: Oranye, Hijau, Ungu
Enam Warna Tersier: Kuning-Hijau, Biru-Hijau, Merah-Oranye, Kuning-Oranye, Biru-Violet, Merah-Violet.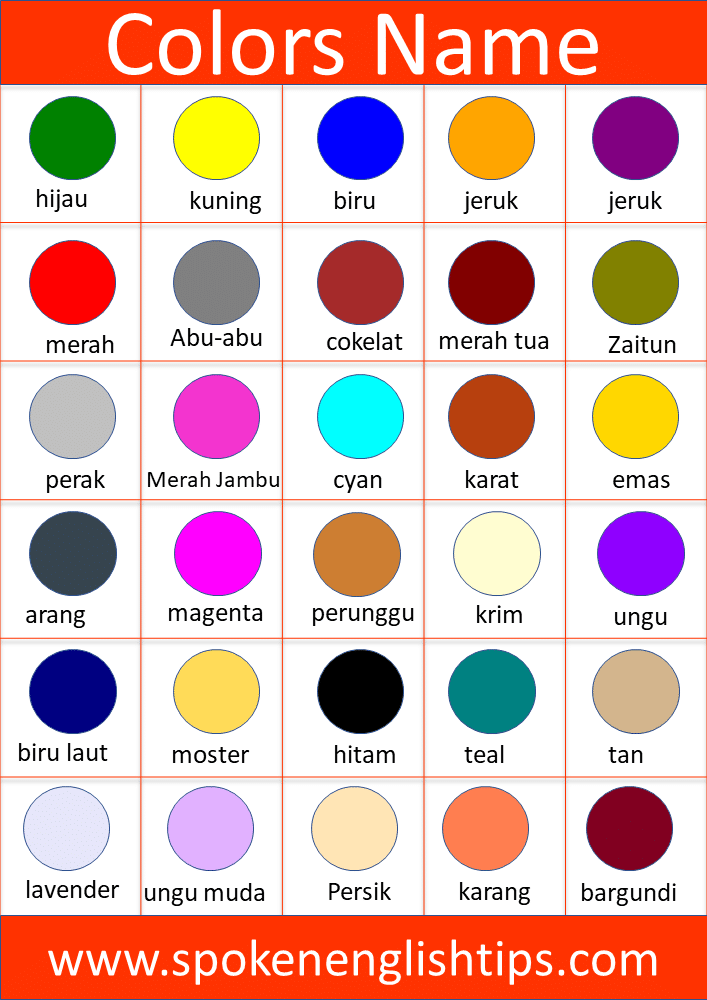 ALL LISTS OF COLOR NAME
Sr No.
Color Image
Color Name
Hex RGB
1.
Green
#008000
2.
yellow
#FFFF00
3.
Red
#FF0000
4.
Blue
#0000FF
5.
white
#FFFFFF
6.
pink
#FFC0CB
7.
brown
#808080
8.
black
#000000
9.
silver
#C0C0C0
10.
maroon
#800000
11.
purple
#800080
12.
gray
#808080
13.
fuchsia
#FF00FF
14.
lime
#00FF00
15.
olive
#808000
16.
navy
#000080
17.
teal
#008080
18.
aqua
#00FFFF
19.
Alice blue
#f0f8ff
20.
antique white
#faebd7
21.
aquamarine
#7fffd4
22.
azure
#f0ffff
23.
beige
#f5f5dc
24.
bisque
#ffe4c4
25.
blue violet
#8a2be2
26.
blanched almond
#ffebcd
27.
brown
#a52a2a
28.
burlywood
#deb887
29.
cadetblue
#5f9ea0
30.
chartreuse
#7fff00
31.
chocolate
#d2691e
32.
coral
#ff7f50
33.
cornflower blue
#6495ed
34.
cornsilk
#fff8dc
35.
crimson
#dc143c
36.
cyan
#00ffff
37.
dark blue
#00008b
38.
darkcyan
#008b8b
39.
dark goldenrod
#b8860b
40.
darkgray
#a9a9a9
41.
dark green
#006400
42.
darkgrey
#a9a9a9
43.
dark khaki
#bdb76b
44.
dark magenta
#8b008b
45.
dark olive green
#556b2f
46.
dark orange
#ff8c00
47.
dark orchid
#9932cc
48.
darkred
#8b0000
49.
dark salmon
#e9967a
50.
dark sea green
#8fbc8f
51.
dark slate blue
#483d8b
52.
dark slate gray
#2f4f4f
53.
dark turquoise
#00ced1
54.
dark violet
#9400d3
55.
deep pink
#ff1493
56.
deep sky blue
#00bfff
57.
dim gray
#696969
58.
dodgerblue
#1e90ff
59.
firebrick
#b22222
60.
floral white
#fffaf0
61.
forest green
#228b22
62.
gainsboro
#dcdcdc
63.
ghostwhite
#f8f8ff
64.
gold
#ffd700
65.
goldenrod
#daa520
66.
gray
#808080
67.
green yellow
#adff2f
68.
honeydew
#f0fff0
69.
hotpink
#ff69b4
70.
indianred
#cd5c5c
71.
indigo
#4b0082
72.
ivory
#fffff0
73.
khaki
#f0e68c
74.
lavender
#e6e6fa
75.
lavender blush
#fff0f5
76.
lawngreen
#7cfc00
77.
lemon chiffon
#fffacd
78.
lightblue
#add8e6
79.
lightcoral
#f08080
80.
light cyan
#e0ffff
81.
light golden rod yellow
#fafad2
82.
lightpink
#ffb6c1
83.
light slate grey
#778899
84.
lightsteelblue
#b0c4de
85.
lightyellow
#ffffe0
86.
lime
#00ff00
87.
limegreen
#32cd32
88.
linen
#faf0e6
89.
Navajo white
#ffdead
90.
olive drab
#6b8e23
91.
orange
#ffa500
92.
orange red
#ff4500
93.
pale golden rod
#eee8aa
94.
palegreen
#98fb98
95.
pale turquoise
#afeeee
96.
palevioletred
#db7093
97.
papayawhip
#ffefd5
98.
peach puff
#ffdab9
99.
Peru
#cd853f
100.
royal blue
#4169e1
Nama Warna dengan Gambar dalam Bahasa Inggris
Hijau
Hijau adalah warna antara biru dan kuning pada spektrum tampak. Hijau adalah warna keseimbangan, harmoni, dan pertumbuhan.

Kuning
Warna sinar matahari dan bunga matahari, kuning optimis, ceria, dan bahagia. Ini juga dapat dikaitkan dengan kejernihan mental dan kecerdasan. Menjadi warna yang paling terlihat dari kejauhan, sering digunakan sebagai warna peringatan.

merah
Merah dianggap sebagai warna emosi yang intens, mulai dari kemarahan, pengorbanan, bahaya, dan panas, hingga cinta, gairah, dan seksualitas.

Biru
Biru adalah salah satu warna utama pigmen dalam lukisan. Ini adalah warna laut dan langit; sering melambangkan ketenangan, stabilitas, inspirasi, kebijaksanaan, atau kesehatan.

putih
Putih melambangkan kemurnian atau kepolosan. Beberapa makna positif yang dapat disampaikan putih antara lain kebersihan, kesegaran, dan kesederhanaan.
cokelat
Coklat sering terlihat padat, seperti bumi, dan itu adalah warna yang sering dikaitkan dengan ketahanan, ketergantungan, keamanan, dan keselamatan. Perasaan kesepian, kesedihan, dan keterasingan.

Merah Jambu
Merah muda melambangkan masa muda, kesehatan yang baik, dan keceriaan. Ini adalah cinta pertama dan singkatan dari memelihara feminitas. Ini digunakan sebagai warna simbolis dari gerakan untuk mendukung penelitian kanker payudara, dan kami menganggap pink sebagai warna yang polos dan ceria.

Hitam
Hitam dikaitkan dengan kekuatan, ketakutan, misteri, kekuatan, otoritas, keanggunan, formalitas, kematian, kejahatan, dan agresi, pemberontakan, dan kecanggihan. Warna hitam adalah tidak adanya warna. Hitam adalah warna misterius yang biasanya dikaitkan dengan yang tidak diketahui atau negatif.

Perak
Perak mewakili energi bulan dan merupakan keseimbangan antara hitam dan putih. Ini adalah warna dewi Yunani Artemis.
Ini adalah simbol kemurnian, kekuatan, kejelasan, fokus, dan energi feminin.

Merah Tua
Warna merah marun sering digunakan untuk mewakili hal-hal yang intens dan penuh gairah seperti; kepercayaan diri, pikiran kreatif, kegembiraan, kekuatan, risiko, gairah, cinta, ambisi, keberanian, kekuatan, kehangatan, dan keindahan.

Blanched Almond
Blanched Almond is a type of beige color. In its meaning, beige is associated with neutrality, class, calmness, and formality.

Ungu
Ungu menggabungkan stabilitas biru yang tenang dan energi merah yang ganas. Warna ungu sering dikaitkan dengan royalti, bangsawan, kemewahan, kekuasaan, dan ambisi.

Bisque
Bisque adalah jenis warna oranye. Dalam maknanya, oranye dikaitkan dengan energi, keceriaan, aktivitas, api, dan kehangatan.

Azure
Azure is a light shade of blue. It's said to represent Jupiter and is known as a stable and calming color that just about everyone likes. It evokes nature, stability, calmness, and richness, among other aspects of blue symbolism.
Beige
Beige has traditionally been seen as a conservative, background color. In modern times, it has come to symbolize work, because so many office computers are beige. In some cultures, beige garments symbolize piety or simplicity.

Aquamarine
Aquamarine is associated with tranquility, serenity, clarity, and harmony. It embodies youthful vitality, purity, loyalty, hope, and truth.

Antique White
Antique White is a creamy white color. It symbolizes royalty, tradition, purity, and innocence.

Alice Blue
Alice blue is a pale tint of azure. It's a soothing, subdued tone that is well suited for both genders, although it may have slightly masculine connotations. It has been used in movies to set an eerie mood.

Aqua
Aqua is a variation of cyan. Aqua evokes feelings of reinvigoration, youth, and dreaminess. The color aqua also symbolizes a period of transition.

Teal
Teal combines the calming properties of blue with the renewal qualities of green. It is a revitalizing and rejuvenating color that also represents open communication, truth, and clarity of thought.

Navy
Navy evokes feelings of power and authority rather than the ideas of relaxation and peace that go along with more standard shades of blue. It tends to lean more towards ideas of authority and importance.

Jaitun
Olive is a complex yellowish-green color. Often used to symbolize peace, harmony, and sophistication. It can also signify perception, empathy, and humankind.

White : putih
Black : hitam
Yellow : kuning
Red : merah
Purple : ungu
Green : hijau
Blue : biru
Orange : oranye
Brown : cokelat
Grey : abu-abu
Pink : merah muda
Dark red : merah tua
Dark blue : biru tua
Dark grey : abu-abu tua
Dark yellow : kuning tua
Dark green : hijau tua
Dark brown : cokelat tua
Dark purple : ungu tua
Light blue : biru muda
Light grey : abu-abu muda
Light yellow : kuning muda
Light green : hijau muda
Light brown : cokelat muda
Light purple : ungu muda
Magenta : magenta
Indigo : nila
Azure : biru langit
Cyan : biru terang
Crimson : merah tua terang
Amber : kuning sawo
Apricot : kuning aprikot
Gold : emas
Mustard : kuning pucat
Navy blue : biru navy
Aqua : biru air
Beige : abu-abu kecokelatan
Burgundy : ungu kemerahan gelap
Maroon : merah marun
Carmine : merah terang
Charcoal : warna arang
Salmon : merah muda kekuningan
Denim : biru agak gelap
Ivory : putih gading
Fuchsia : merah muda terang
Lavender : ungu muda
Lilac : merah muda keunguan pudar
Mauve : ungu lembayung
Peach : warna peach
Silver : perak
Scarlet : merah padam
Turquoise : biru kehijauan
Emerald : hijau zamrud
Cerise : Jingga muda
Cinnamon : cokelat dengan kesan merah
Cream : krem
Coral : merah kekuning-kuningan
Ebony : hitam gelap
Jade : hijau lumut
Lime : hijau tua
Puce : ungu kecokelatan.