Today we will learn about the complete discussion about parting. In this Speaking English conversation practice free with dialogues and Exercise. Also, you can play audio files and listen to full discussions of parting conversations.
In this online parting conversation, we will discuss the complete information regarding parting. So Are you excited! go ahead for Basic English conversation practice.
Speaking English Conversation Practice about the Parting
A
Well, I have done an appointment now.
I'm in quite a hurry too.
Good to see you. Goodbye.
Goodbye. Take care of yourself.
B
I guess I'd better go now.
I've got to be going now too.
In that case, I'll be seeing you.
So long. See you later
C
It's getting late, and I have to go now.
We're sorry you have to leave.
Please excuse me, won't you?
Certainly. Come back soon.
D
I'm glad to have met you.
Thank you. It was nice to have seen you.
I hope we can get together again.
Yes. I'll be looking forward to it.
E
I think I have to leave now.
Must you go so soon?
I'm afraid I really have to.
Well, It was fun to get together again.
Get the worksheets to Complete English Conversation Practice pdf which you can free download.
English Conversation Pdf worksheets Free Download
This English conversation pdf worksheet will help you to practice easily whatever you learn before. How it will help you let me tell you:
First you save or download this worksheet on any device.
Get a print out of English conversation worksheet
And start doing exercise
This is the best way to learn ESL speaking Home learning for students. It is a kind of activity to learn English conversation by doing practice. Download a free printable English conversation practice worksheet.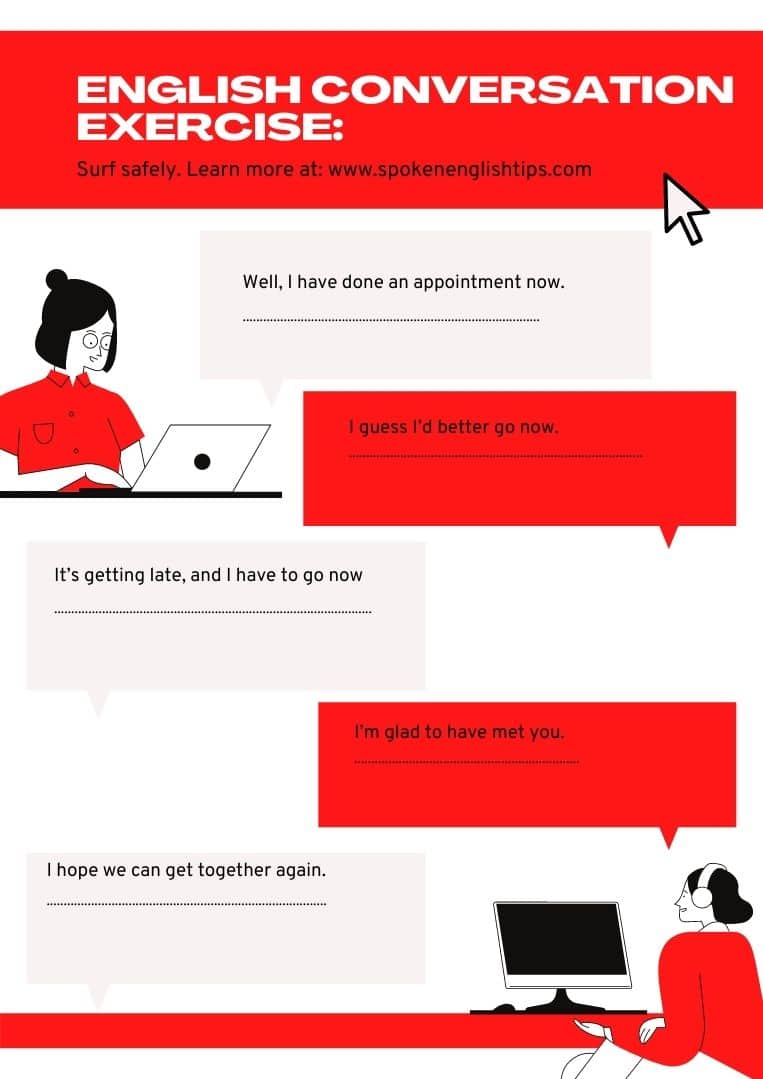 Download English Speaking Lesson Free Pacage
It's Time to Start improving your English Listening Skills!
Get Access Free English speaking lessons. English speaking course pdf books, files, and information free. Even you can download pdf files into your device and practice them.
What will you get?
English speaking lessons tips
English conversation topics above 100 lessons are there you can practice it.
1000+ vocabularies
Daily use of words for English speaking
English phrases
Idioms for English speaking
Basics of English Grammar Free eBook for beginners
Personality development course
Vocabularies used in Body language
Common words for English speaking
Pdf eBooks for Improvement English
Download Free English speaking pdf ebooks of Spoken English Tips
Many English speaking Lessons will be provided which will be absolutely free. We are working to provide you with more and more valuable information to enhance your English speaking.
Read Also: