So, Are you searching for Alternative Ways to Say "What's Up" in English Speaking? Don't worry about that, today Here I gonna share with you some Best alternative ways of "what's up".
what's up ways to say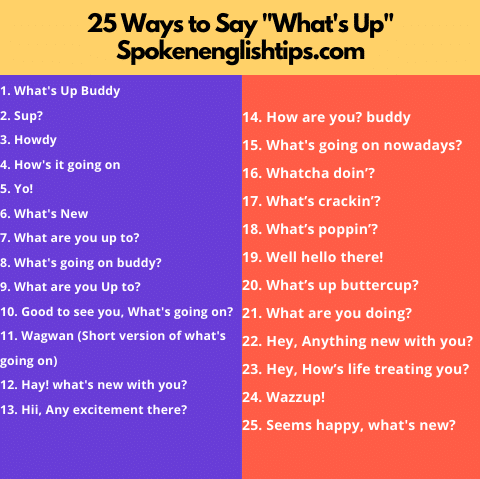 Alternative Ways to Say What's up
1. What's Up Buddy
2. Sup?
3. Howdy
4. How's it going on
5. Yo!
6. What's New
7. What are you up to?
8. What's going on buddy?
9. What are you Up to?
10. Good to see you, What's going on?
11. Wagwan (Short version of what's going on)
12. Hay! what's new with you?
13. Hii, Any excitement there?
14. How are you? buddy
15. What's going on nowadays?
16. Whatcha doin'?
17. What's crackin'?
18. What's poppin'?
19. Well hello there!
20. What's up buttercup?
21. What are you doing?
22. Hey, Anything new with you?
23. Hey, How's life treating you?
24. Wazzup!
25. Seems happy, what's new?
Learn English Speaking