Descriptive words explain certain topics, and they make it very easy to understand others. Good descriptive words use adjectives, participles, and adverbs to describe any type of natural behavior or action, which enhances and improves the flow of writing. On the basis of that today I gonna share with you some best descriptive words. Keep reading carefully.
Best Descriptive Words List With Picture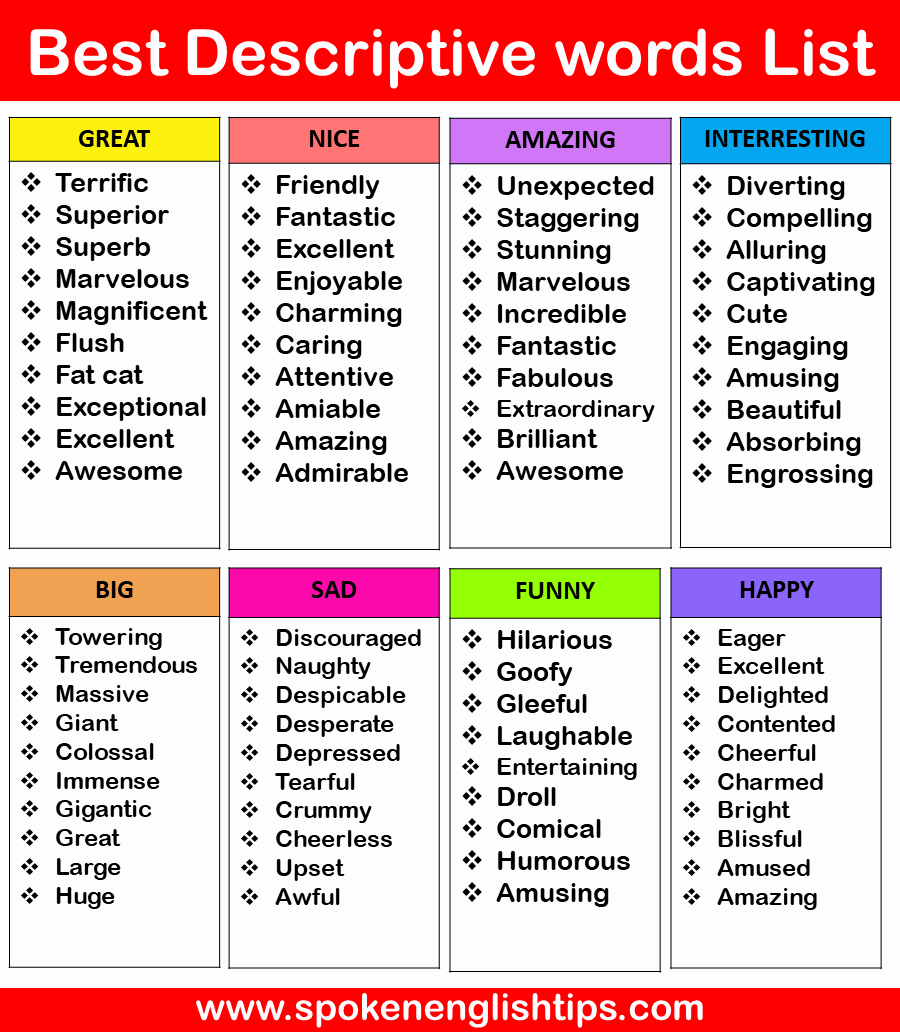 You may be bored of using the same words and are in desperate need of expanding your vocabulary. If that's the case, you've come to the correct place! We will share the most common descriptive and describing words with you here. Also included are gerunds, verbs, and nouns as descriptive terms.

The greatest part about descriptive words is that they cover all five senses: smell, taste, touch, sight, and sound.
What Is A Descriptive Word?
A descriptive word is a word that is used to describe something, which could be a person, a place, a scenario, or an item. These words allow you to better express the state of anything. For example, if you were talking about an animal, you could use descriptive words to describe how that animal appears and behaves.
Types of Describing Words
What kinds of descriptive words exist? Descriptive words are classified into two categories. Adverbs and adjectives In the English language, adjectives are incredibly significant and useful. They've been around for a long time, and famous figures like Shakespeare invented several of them throughout his time on Earth. They give us the ability to describe the world around us, which is useful in a variety of scenarios.
For example, if you want to see a doctor regarding a certain problem, you must be able to express it. Adjectives will assist your audience to imagine your story more vividly if you're writing a story. Adjectives are essential when it comes to complementing or describing someone.
Descriptive Adjectives
An adjective is a word that is used to alter or characterize a noun. The adjective can provide additional information about a noun, such as its size, shape, texture, or color.
Here are some examples of adjectives:
The woman was so tall.
It was a giant animal
The color of her eyes was blue.
She was a very pretty girl.
The man is Indian.
It is worth noting that an adjective will most likely end with the letters: –ive, -less,-al,-an,-ar, etc. If you are eager to learn more about Adjectives, Click here to learn everything about adjectives.
Descriptive Adverbs
The other type of descriptive word we'll look at is an adverb. An adverb is a word that can explain an adjective or a variety of other words such as verbs, phrases, sentences, or even other adverbs.
Examples:
She drives quickly.
My Dog barked hungrily.
The boys sang happily.
Peacock speaks noisily.
Farmers protest massively.
Gerunds Used As Descriptive Words
In case you're not familiar with gerunds, they're verbs that finish in -ing and function as nouns. Gerunds include the phrases "swimming" and "falling." These words, when utilized correctly, can be used as adjectives by modifying adverbs.
Examples:
– "Do you have any interesting questions regarding this topic?"
– "A few years ago the food of the school is disgusting"
In some cases, verbs and Noun also used as descriptive words.
We have covered the descriptive terms in a list, and by reading it, you will be able to quickly comprehend the descriptive words and their meanings, as well as boost your vocabulary.
Most Common Descriptive Words
KIND
Sympathetic
Politely
Obligingly
Nice
Lovingly
Kindhearted
Helpfully
Gracious
Good-natured
Gentle
Generous
Considerate
Congenial
Compassionate
Caring
Avuncular
Attentive
Amiable
Agreeably
Affectionately
IMPORTANT
Significant
Serious
Primary
Paramount
Momentous
Meaningful
Major
Key
Imperative
Great
Fundamental
Far-reaching
Extensive
Eventful
Essential
Decisive
Crucial
Critical
Consequential
Chief
SMALL
Teeny-weeny
Slight
Skimpy
Pygmy
Petite
Minute
Miniature
Mini
Little
Diminutive
BIG
Tremendous
Massive
Giant
Colossal
Immense
Gigantic
Great
Large
Huge
Towering
SAD & BAD
Nasty
Mournful
Miserable
Melancholy
Lousy
Joyless
Heartbroken
Horrible
Heavy
Hateful
Glum
Gloomy
Frustrated
Forlorn
Dreadful
Downcast
Depressed
Disheartened
Desperate
Disgusted
Discouraged
Disgraceful
Despicable
Disagreeable
Dejected
Cheerless
Blue
Crummy
Awful
FUNNY
Ludicrous
Laughable
Jocular
Hysterical
Humorous
Hilarious
Goofy
Good-humoured
Gleeful
Farcical
Entertaining
Droll
Comical
Comical
Amusing
HAPPY
Pleased
Pleasant
Overjoyed
Outstanding
Optimistic
Merry
Marvelous
Loving
Lively
Joyful
Hopeful
Gleeful
Glad
Fantastic
Excited
Excellent
Delighted
Charmed
Cheerful
Bright
Contented
Exceptional
Blissful
Ecstatic
Elated
Amused
Amazing
Enthusiastic
Eager
Exultant
QUICKLY
Quick
Rapidly
Speedily
Swiftly
Hurriedly
Fast
Briskly
At full speed
Hastily
RICH & GREAT
Superb
Superior
Prosperous
Phenomenal
Outstanding
Exceptional
Moneyed
Marvelous
Fat cat
Affluent
Deep-pocketed
Awesome
Exceptional
Excellent
Magnificent
Incredible
Extraordinary
Flush
EXTREMELY
Unusually
Supremely
Seriously
Terrifically
Thoroughly
Terribly
Truly
Really
Uncommonly
Remarkably
Significantly
ONLY
Simply
Purely
Nothing but
No more than
Merely
Just
But
At most
At a push
GOOD
Neat
Splendid
Superior
Outstanding
Kindhearted
Gentle
Grand
Caring
Charming
Marvelous
Compassionate
Likable
Friendly
Enjoyable
Benign
Congenial
Amazing
Lovely
Pleasurable
Cordial
Amiable
Benevolent
Delightful
Considerate
Courteous
Exceptional
Admirable
Attentive
Excellent
Generous
Pleasant
Avuncular
Kind
Gracious
Stupendous
Fantastic
NORMALLY
Usually
Most of the time
In general
Almost always
Mostly
Ordinarily
For the most part
Mainly
Commonly
Generally
AMAZING
Unbelievable
Remarkable
Fantastic
Tremendous
Astonishing
Breathtaking
Phenomenal
Extraordinary
Incredible
Stupendous
Stunning
Spectacular
Awesome
Fabulous
Staggering
Marvelous
Brilliant
Overwhelming
Prodigious
Significant
SERIOUSLY
Truthfully
Truly
To be serious
Sincerely
No joking
In earnest
Honestly
ATTRACTIVE
Lovely
Engaging
Intriguing
Compelling
Fascinating
Alluring
Beautiful
Entertaining
Handsome
Cute
Diverting
Gripping
Enthralling
Absorbing
Engrossing
Amusing
Captivating
Good-looking
Glamorous
Gorgeous
VERY
Profoundly
Particularly
Noticeably
Jolly
Highly
Greatly
Excessively
Exceedingly
Eminently
Deeply
Decidedly
Awfully
Acutely
Absolutely
List of Descriptive Words From A-Z
Descriptive Words / Start with A
Arrogant
Amused
Ambitious
Alert
Affordable
Adventurous
Adorable
Adaptable
Active
Achy
Accomplished
Acceptable
Academic
Abusive
Abundant
Abnormal
Abandoned
Descriptive Words / Start with B
Brilliant
Brash
Brainy
Bookish
Boisterous
Blushing
Blue-Eyed
Bewildered
Beneficial
Beautified
Beaming
Basic
Balanced
Baggy
Baffling
Babyish
Descriptive Words / Start with C
Crisp
Creative
Courageous
Comfortable
Combative
Clever
Cheerful
Charming
Charismatic
Cerulean
Cautious
Casual
Carefree
Captivating
Calm
Descriptive Words / Start with D
Dominant
Divine
Diverse
Discreet
Different
Determined
Depressed
Deluxe
Delighted
Delicious
Defeated
Deep
Decent
Dark
Dangerous
Descriptive Words / Start with E
Exuberant
Evanescent
Enchanting
Enthusiastic
Emotional
Enraged
Elegant
Efficacious
Exemplary
Easy-Going
Earthly
Empty
Eager
Effortless
Exciting
Equable
Descriptive Words / Start with F
Frightened
Feisty
Fierce
Fascinating
Faithful
Factual
Fancy
Fabulous
Fearless
Famous
Fashionable
Flustered
Flawless
Fine
Free
Descriptive Words / Start with G
Grumpy
Grieving
Gifted
Graceful
Giant
Gentle
Generic
Generous
Gentle
Glamorous
Gleaming
Good-looking
Goal-oriented
Glum
Gloomy
Glowing
Descriptive Words / Start with H
Homely
Hilarious
Healthy
Harmful
Headstrong
Harmonious
Hated
Hazel
Hideous
Heavenly
Hasty
Heroic
Helpful
Descriptive Words / Start with I
Intriguing
Improper
Inexpensive
Immortal
Ideal
Immune
Impervious
Idolized
Illegal
Icy
Idealistic
Inclined
Impossible
Intense
Inquisitive
Descriptive Words / Start with J
Jumpy
Jolly
Joyful
Jeweled
Jealous
Jarring
Jagged
Jeering
Jittery
Joyous
Jaunty
Jubilant
Jangling
Descriptive Words / Start with K
Knowledgeable
Kindly
Kind
Kissable
Kindred
Keeled
Kinetic
Keen
Keyless
Kindhearted
Kaput
Kingly
Knockout
Klutzy
Descriptive Words / Start with L
Luxurious
Lucky
Legendary
Lesser
Lazy
Lazy
Lame
Liberated
Lanky
Licit
Lively
Lazy
Lonely
Loud
Lovable
Descriptive Words / Start with M
Musical
Marvelous
Magical
Mad
Motionless
Malefic
Magnanimous
Maladapted
Malleable
Memorable
Mindful
Modern
Motivational
Motivated
Descriptive Words / Start with N
New
Nauseating
Nauseated
Naughty
Natural
Nasty
Narrow
Native
Nice
Nauseous
Necessary
Neat
Needed
Needy
Nervous
Descriptive Words / Start with O
Official
Obnoxious
Obedient
Open-minded
Odd
Odorous
Outrageous
Obscure
Overjoyed
Odorous
Outgoing
Descriptive Words / Start with P
Professional
Pretty
Perfect
Peaceful
Precious
Passionate
Personable
Playful
Patient
Powerful
Participant
Perceptive
Persistent
Placid
Descriptive Words / Start with Q
Quixotic
Questioning
Qualified
Queer
Querulous
Quarrelsome
Quiver
Quiet
Quirky
Quality
Questionable
Quenched
Queasy
Quick
Descriptive Words / Start with R
Responsible
Reachable
Radical
Rampant
Radioactive
Relieved
Rational
Respectable
Rakish
Racy
Radiant
Real
Repulsive
Descriptive Words / Start with S
Splendid
Sarcastic
Sanctimonious
Sensitive
Scented
Sedentary
Sparkling
Selfless
Safe
Sanguine
Salty
Sassy
Scintillating
Silky
Descriptive Words / Start with T
Trustful
Tenacious
Tall
Tasteful
Talkative
Thoughtless
Tempting
Tender
Terrible
Tolerant
Tasty
Tremendous
Thankful
Tantalizing
Tinted
Descriptive Words / Start with U
Useful
Uninterested
Ultimate
Unaffected
Unbroken
Uptight
Unlucky
Unbelievable
Unusual
Unpleasant
Ugly
Ulterior
Universal
Unused
Descriptive Words / Start with V
Vivid
Valid
Valorous
Versatile
Vast
Victorious
Vaulting
Vigorous
Validatory
Valuable
Vigilant
Vibrant
Descriptive Words / Start with W
Worshipful
Witty
Wanted
Whole
Wild
Weak
Wasteful
Warmhearted
Wealthy
Wordy
Warm
Wicked
Worrisome
Descriptive Words / Start with X
Xeme
Xebec
Xeric
Xenodochial
Xylographic
Xystus
Xenogeneic
Xerothermic
Xenial
Descriptive Words / Start with Y
Yummy
Yawning
Yellowish
Yeasty
Yiddish
Yodelling
Yearly
Young
Youthful
Yellow
Descriptive Words / Start with Z
Zootrophic
Zany
Zealful
Zesty
Zenithal
Zingy
Zoological
Zippy
Zealous
Zigzag
Zealand
Zazzy
Zestful
Zionist
Describing Words Infographic